Helping Children Who Feel Powerless
Categories: Power of Prayer, Relationships, Safety
Issue:
How do we help children who are feeling powerless? Can the Scriptures speak life to them?
Response (staff answer):
Love is life. The most powerful life-giving power there is is Love, and that comes straight from God. Indeed, God is Love. So to help a child, or anyone for that matter, overcome the feeling of powerlessness or gain a new sense of life, we love.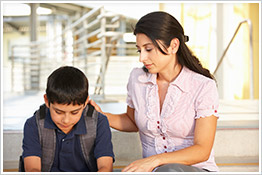 We share the love of God with them; we shower them with love. How? We tell them they're loved. We show by our actions that we love them. We tell them God loves them. We explain that they are worthy of love; they are enough just as they are. We tell them everything that is good about them. We find ways to encourage them. We show them how important they are. We treat them with the utmost tenderness.
There's a powerful story in the New Testament about Peter being arrested on Herod's orders, put in prison, and guarded by 16 soldiers (Acts 12). The situation looked hopeless. Peter was trapped. There was no way out. Herod wanted him killed. Peter appeared totally powerless to do anything. But that was just the picture. His friends, the other disciples and followers of Jesus, were praying. Peter must have been praying, too. Amazingly, he fell asleep chained between two soldiers.
That's when an angel rescued him—woke him up, broke the chains, led him out of the prison, out of the gates to freedom. When Peter realized he wasn't just dreaming, he went to the home where his friends were praying. Peter's life was saved! He walked out of an impossible situation.
The angels are all around us, speaking to us, protecting us, guiding us, helping us through situations or feelings that seem hopeless. Psalm 91 tells how powerfully God saves us, sends His angels to care for us: "For he will command his angels concerning you to guard you in all your ways; they will lift you up in their hands, so that you will not strike your foot against a stone" (11, 12 ESV).
God loves us so much that He sends His angels to keep us safe, pull us out of all different types of prisons (mental or physical), and give us a new perspective on life, even life itself.
The Bible provides so many examples of how God or God's angels rescued people who could have easily felt powerless. Here are just a few:
Elijah felt that he was at the end of his rope. He was running for his life and was tired and felt helpless and alone. The angel woke him up and encouraged him. Elijah learned the power of God's still small voice. (1 Kings 19)
Elisha was surrounded by the enemy army. He and his servant were totally trapped. The situation looked dire. But God's chariots of fire were round about them. Not only were the men of God saved, but Elisha also stopped the war by giving advice to feed the enemy soldiers rather than detain or harm them. (2 Kings 6:8-22)
David defeated Goliath. (1 Sam 17)
Joseph was thrown into a pit, pulled out and sold to Potiphar in Egypt. God was with him, even when he was falsely accused and thrown into prison for a crime he didn't commit. His life seemed bleak. But he stayed the course and wound up in the palace as the Pharaoh's chief advisor. (Gen 37, 39-41)
Every healing by Jesus saved and transformed lives. No longer were they helpless or hopeless. They were healed and new! (NT Gospels)
God's angels are just as powerfully present for us today as they were then. Love indeed can speak life to those who feel powerless, and the Scriptures are full of accounts of the power of love. "For God so loved the world…" (John 3:16) … and we love our children.