Unfaithful Partners
Categories: Family, Relationships
Issue:
We have been asked to address the topics of unfaithful partners and repeated cheating.
Response (staff answer):
Whether the repeated cheating deals with test-taking, finances, stealing, or cheating in relationship, the fundamental issue of infidelity or unfaithfulness is the same. While we cannot give the specific answer to one's personal situation, we can offer suggestions, guidance, and questions.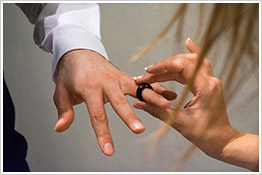 Trust is one of the foundational qualities required for a wholesome relationship. If this has been broken, is it possible to restore the relationship? Is the one who cheats repentant? Is this evident in his/her reformation, or is there the cycle of infidelity, apology, repeat? If the latter, there is little reason to continue in such a relationship.
Just as God demands our faithfulness, which we can see throughout the Bible, so do our relationships. God sets the standard in the Ten Commandments and Jesus' two great commandments which summarize them: love God with everything we have, and love others as we love ourselves (Matt 22:36-40).
It's hard to love God, ourselves, and others if we are harboring resentment and unforgiveness. So for our own health, we need to forgive everyone involved. We need to recognize guilt and use it as a springboard to change. We need to let go of shame. Now, this isn't easy, but it's pretty essential.
We're talking about commitment here. How do our lives serve God? Do our relationships support this service? We want to go forward in life with people who share and commit to similar values—honesty, integrity, and faithfulness. If this is not the case, we need to prayerfully consider some questions: Am I compromising my own integrity, character, and sense of life in order to maintain this relationship? Have I lost my own identity and caved in to the demands or whims of another person? Am I living my life as though I am walking on egg shells? Am I being emotionally abused? Is it possible to stop the abuse and regain my sense of self-worth? Is there a basis on which to build a new, trustworthy relationship?
If the fidelity to the marriage contract is broken, it makes it pretty hard to continue. But leaving a marriage may be a huge struggle for some if they believe that divorce is wrong, they have nowhere to go, or they don't know how they would make a living.
First and foremost, God has the answers: "Trust in the LORD with all your heart; do not depend on your own understanding. Seek his will in all you do, and he will show you which path to take" (Prov 3:5-6NLT). When we lean wholeheartedly on God, not on another person, God shows us the best decision to make. But what if we are reluctant to follow God's guidance? How do we know if it's the best or right decision? We get an answer of peace: "But the wisdom that comes from above is first pure, then also peaceful, gentle, reasonable, full of mercy and good fruits, impartial, and sincere" (James 3:17 EHV).
When we walk down the path that we think God is showing us, even though it may be difficult, we have a sense of calm, peace, and gentleness. We may have questions, but we're not unsettled by emotional turbulence. If there is such internal turmoil, we may be walking down the wrong path and need to listen until we gain a sense of spiritual certainty. Then we proceed or change directions.
When there is true repentance and reform, the relationship can indeed make a 180 degree turn. It is possible for God to touch our hearts with grace so that cheating and unfaithfulness are destroyed. Jesus healed the adulterous woman, though we never do hear about the man. Her life changed, and we hope his did too. Jesus healed Zacchaeus, the tax-collector who was known for cheating in his money dealings. Reform is not only possible, but satisfying and rewarding.
There are marriage counselors who specialize in helping people work through affairs. Willard Harley has written helpful books on surviving affairs and coming out the other side happy, committed, and whole.
If we're the ones who are doing the cheating, who are acting unfaithfully, and we feel stuck, there are immediate answers. Jesus showed us how to find freedom from sickness and sin—to turn with our whole hearts to God, to genuinely love God, to love ourselves as God's worthy sons and daughters, and then to naturally love others. The motif here is love, and love requires fidelity and trust. When we commit ourselves to God, God takes us all the way we should go. God meets us and brings us home.
The prophets knew this: "If you wander from the right path, either to the right or to the left, you will hear a voice behind you saying, 'You should go this way. Here is the right way'" (Isa 30:21 ERV). Usually the leader is in front. We hear the voice behind us because we have wandered from the path, and God is calling us back. This includes those we love. Jesus' parable of the Prodigal Son teaches us of God's ever-present, non-critical, unconditional love for us.
And while we, too, can love others unconditionally, this does not mean we have to stay in a relationship that is fraught with dishonesty and deception. Walking on the straight and narrow path has enough trials on its own. Why make it harder for us? We need to value and love ourselves, protect and defend our own environment, and thrive in an atmosphere of mutual trust and respect.
As we journey down the paths of life, we want to make sure that our hearts are pure and that we're committed to God, to a life of integrity. Then, we want to partner with those who have also committed to leading lives of honesty and integrity. There is a way. There is always a way. God's way.