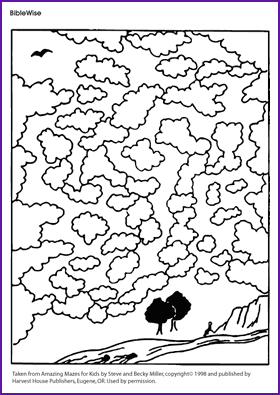 Taken from Amazing Mazes for Kids by Steve and Becky Miller, copyright © 1998 and published by Harvest House Publishers, Eugene, OR. Used by permission.
Elijah and the Ravens
1 Kings 17:1-6
When King Solomon died, the nation of Israel divided into two parts — the Northern Kingdom and the Southern Kingdom. Most of the kings who ruled during that time did not follow God. They were wicked and turned the people of Israel against God.
This made God sad. He spoke to a prophet named Elijah, saying "Because my people have turned away from Me, it will not rain in Israel for three years." Then God told Elijah, "You are to go to a brook east of the Jordan River. There, you will have water. I will also send ravens to bring bread and meat to you in the morning and the evening."
Just as God promised, when Elijah went to the brook, God sent ravens, or birds, with food for Elijah.
In the maze, can you help the raven at the top of the page get to Elijah, who is sitting next to the river?