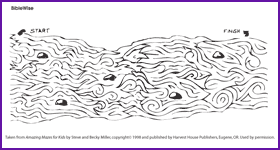 Taken from Amazing Mazes for Kids by Steve and Becky Miller, copyright © 1998 and published by Harvest House Publishers, Eugene, OR. Used by permission.
Five Smooth Stones
1 Samuel 17
David was a young shepherd boy who watched his father's sheep. One day, his father sent him to take food to his brothers, who were in Israel's army.
When David arrived at the army camp, he looked across the river and saw the enemy soldiers, the Philistines. A large, strong soldier named Goliath shouted, "Come fight me!" But the Israelites were afraid, and ran away.
David saw Goliath and was not afraid. "I will fight Goliath!" he said. David went to a stream and got five smooth stones. He shouted to Goliath, "You have your sword and spear, but I have God!" David then slung a stone at Goliath's forehead, and the giant fell dead!
Can you help David find all five stones in the stream?