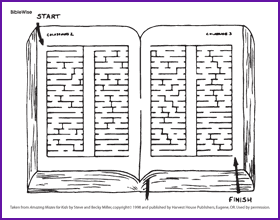 Taken from Amazing Mazes for Kids by Steve and Becky Miller, copyright © 1998 and published by Harvest House Publishers, Eugene, OR. Used by permission.
God's Word in Your Heart Colossians 3:16
What is one way we can grow closer to God and become stronger in the Christian life? Memorize God's Word in our heart!
To memorize something means to repeat it in your mind again and again so that you'll never forget it. That's what Colossians 3:16 encourages us to do: "Let the word of Christ dwell in you richly." That means we are to let God's Word live in us richly.
When we memorize Bible verses, we will...
know God better
know His promises to us
know the right way to live
know how to treat other people
Also, when we memorize Bible verses, we can take them with us wherever we go! Then if we need help from God, we can remember what He says to us, even if we don't have our Bible with us.
Can you find your way through the maze on the Bible pages?