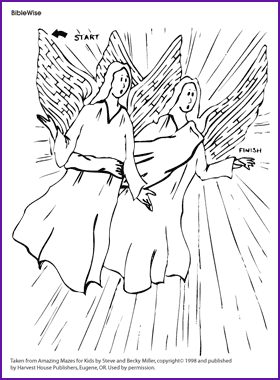 Taken from Amazing Mazes for Kids by Steve and Becky Miller, copyright © 1998 and published by Harvest House Publishers, Eugene, OR. Used by permission.
Good News of Great Joy Luke 2:8-15
On a quiet, star-filled night, some shepherds were watching their sheep in the fields near the little town of Bethlehem. Suddenly an angel appeared, and the glory of the Lord shone brightly all around the shepherds. They had never seen anything like this before and were afraid.
"Do not be afraid," said the angel. "I have come to bring you good news of great joy. Today in the town of David a Savior has been born to you; he is Christ the Lord. You will find the baby wrapped in cloths and lying in a manger."
Then many angels appeared, and they praised God, saying, "Glory to God in the highest, and on earth peace to men on whom His favor rests."
When the angels had left, the shepherds looked at one another and said, "Let's go to Bethlehem to see the child that the angels told us about!"
Can you find your way through the maze? (Hint: You will need to go through the second angel's hair.)