Jacob and Rachel
Categories: Isaac and Rebekah, Jacob and Esau, Jacob
Jacob and Rachel 
Genesis 29:16-30
After Jacob took Esau's birthright, there were more problems between the brothers. Jacob was afraid Esau would kill him, so he traveled far away to the home of his Uncle Laban.
When he arrived, he met a beautiful woman named Rachel. She was the daughter of Laban, and took care of the family sheep.
Jacob asked his Uncle Laban if he could marry Rachel. The uncle said, "First, you must work for me for seven years." Jacob loved Rachel so much, he was willing to work hard to marry her.
Can you help Jacob find his way to Rachel?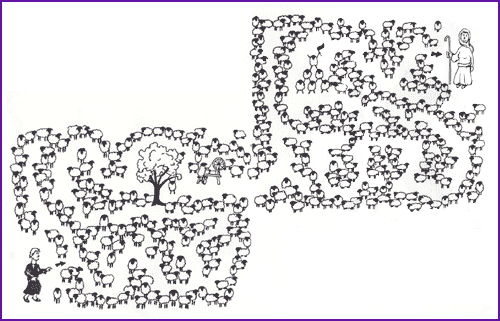 This Month's Featured Fun and Games
Coloring Pages
Younger Children
Older Children
Note: If pictures print incorrectly, try changing the orientation to landscape or portrait.