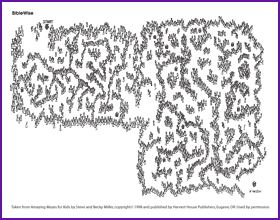 Taken from Amazing Mazes for Kids by Steve and Becky Miller, copyright © 1998 and published by Harvest House Publishers, Eugene, OR. Used by permission.
Jesus Feeds 5,000 People
Luke 9:12-17
Jesus was so popular that large crowds followed Him everywhere. After one long day, the people were getting hungry. Jesus said, "Let's feed the people."
"But all we have are five loaves of bread and two fish," said the disciples. "Bring them to me," said Jesus. He thanked God, then broke the loaves so the disciples could give the food to the people. When everyone was done eating, there were 12 baskets of food left over! Everyone was amazed at Jesus' miracle.
Jesus and the disciples are at the start of the maze. Help them go through the maze and collect all 12 baskets of food.