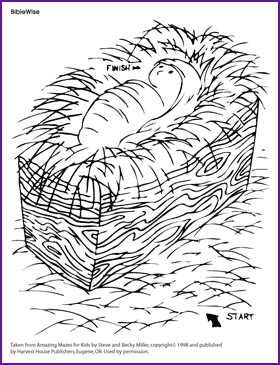 Taken from Amazing Mazes for Kids by Steve and Becky Miller, copyright © 1998 and published by Harvest House Publishers, Eugene, OR. Used by permission.
Jesus is Born
Luke 2:16-20
The shepherds hurried to Bethlehem, and they found Mary, Joseph, and the baby. When they arrived, they told Mary about the wonderful message from the angels. Everyone was excited! Then the shepherds returned to their sheep, thrilled that they had seen the newborn Savior, Jesus Christ the Lord.
Can you find your way to the baby Jesus?