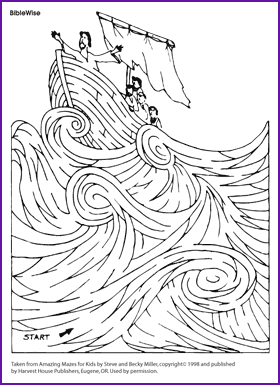 Taken from Amazing Mazes for Kids by Steve and Becky Miller, copyright © 1998 and published by Harvest House Publishers, Eugene, OR. Used by permission.
Jesus Stops a Storm
Mark 4:37-41
What is happening here? The sea and the wind look very angry. Jesus and His disciples are in a horrible storm!
Jesus was asleep in the boat when the storm began. The disciples thought the storm would sink the boat. They were all afraid.
"Lord, save us! We're going to drown!" they shouted.
"Don't be afraid," said Jesus. "Trust in God." Then Jesus told the wind and the waves, "Be quiet!"
The disciples were amazed. They had never seen anyone who had power over nature. They knew Jesus had to be the Son of God.
Begin at the "Start" arrow and find your way to Jesus, who is standing in front of the boat.