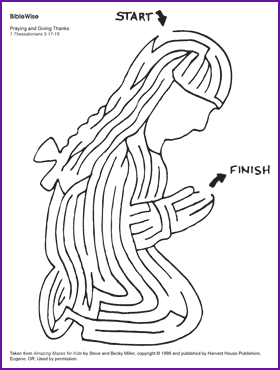 Taken from Amazing Mazes for Kids by Steve and Becky Miller, copyright © 1998 and published by Harvest House Publishers, Eugene, OR. Used by permission.
Praying and Giving Thanks
1 Thessalonians 5:17-18
What is prayer? It is talking to God and sharing with Him what is happening in your life. It's also a time for remembering His greatness, sharing your needs, and thanking Him for all that He has done for you.
First Thessalonians 5:17-18 tells us it is important to "pray continually; [and] give thanks in all circumstances."
Do you pray to God each day and thank Him for His good gifts to you? God loves to hear the prayers of His children!
Can you find your way through the maze?