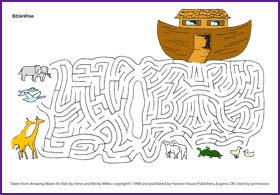 Taken from Amazing Mazes for Kids by Steve and Becky Miller, copyright © 1998 and published by Harvest House Publishers, Eugene, OR. Used by permission.
The Big Flood
Genesis 7-8
When Noah finished building the ark, he gathered his family and every kind of animal into the ark with him. After that, just as God promised, great rains came upon the earth for 40 days and 40 nights. The floodwaters grew higher and higher, until even the highest mountains on the earth were completely covered.
Can you help the animals find their way to the ark?