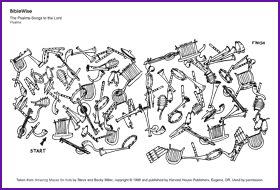 Taken from Amazing Mazes for Kids by Steve and Becky Miller, copyright © 1998 and published by Harvest House Publishers, Eugene, OR. Used by permission.
The Psalms—Songs to the Lord
Psalms
The book of Psalms is filled with special songs to the Lord. King David wrote many of the songs. When David and other Israelites sang these songs, they used different kinds of musical instruments, such as trumpets, bells, rams' horns, lutes, lyres, harps, cymbals, tambourines, flutes, and pipes. You'll find all of these instruments pictured here in the maze.
Can you find your way through the maze from beginning to end?