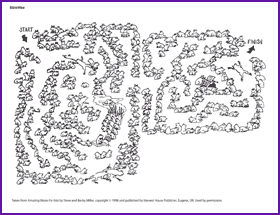 Taken from Amazing Mazes for Kids by Steve and Becky Miller, copyright © 1998 and published by Harvest House Publishers, Eugene, OR. Used by permission.
The Ten Plagues 
Exodus 5-12
Moses grew up in the Pharaoh's house, but in his heart he knew he was an Israelite. He wished he could help free his people from slavery. One time when he tried to help the Israelites, he got in trouble, so he ran away.
Forty years later, God told Moses to go back and ask the Pharaoh to free the Israelites. But the Pharaoh refused to let the people go. Then God warned, "I will send ten terrrible plagues on Egypt!
In one of the plagues, God sent frogs all over Egypt. Can you find your way through the frogs?