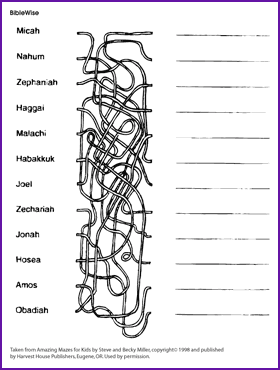 Taken from Amazing Mazes for Kids by Steve and Becky Miller, copyright © 1998 and published by Harvest House Publishers, Eugene, OR. Used by permission.
The Twelve Minor Prophets
The last twelve books of the Old Testament are all about prophets God sent to the people of Israel. These prophets spoke special messages from God to the Israelites.
Most of the messages were warnings from God, who wanted His people to turn away from their sin and follow Him.
The names of these twelve prophets are all on the next page. However, they are not in the correct order. With the help of the "ropes" in the maze, put the names in their proper order.