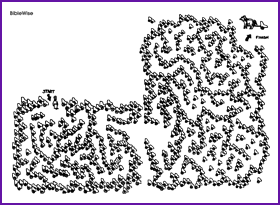 Taken from Amazing Mazes for Kids by Steve and Becky Miller, copyright © 1998 and published by Harvest House Publishers, Eugene, OR. Used by permission.
The Wisest Man Who Ever Lived
2 Chronicles 1
After King David died, Solomon became the next king of Israel. One night, God spoke to Solomon and said, "Ask for whatever you want Me to give you." Solomon answered, "Please give me wisdom and knowledge so that I will know how to lead Your people."
God was pleased that Solomon asked for wisdom, and not riches or fame. He told Solomon, "Because you asked for wisdom, I will also give you great wealth and honor. You will be Israel's greatest king."
Solomon became very famous because of his wisdom, and he was so rich he had 1,400 chariots! Can you help Solomon find his way to the chariot that's ready for him at the end of the maze?