Left to Tell and Led by Faith
By Immaculée Ilibagiza with Steve Erwin
Categories: Biography/Memoir, Forgiveness, Inspirational People
Immaculée Ilibagiza shares her story of surviving the 1994 Rwandan genocide in two books: Left to Tell and Led by Faith. Immaculée's first book, Left to Tell, details her horrific account of hiding in a small bathroom for three months in order to stay safe from the violence and her prayers that led her to safety; Led by Faith expands on her reliance on God in the aftermath of the genocide, which ultimately carries her through rebuilding a new life. Both books share a powerful story of how Love guides and guards.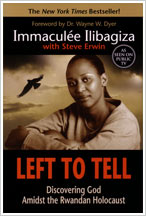 I read Left to Tell and Led by Faith consecutively. While the books are not true sequels — the first is not a prerequisite for understanding the second — I would recommend reading them in order so as to gain the full scope and impact of Immaculée's story of survival and how she rose "from the ashes of the Rwandan genocide." For those choosing to read only one book, consider reading Led by Faith since its first chapter recaps the events in Left to Tell.
From the very beginning of Left to Tell, Immaculée explains the perils of the ethnic divide and deep-seeded tribalism in Rwanda — the clash between the Tutsis and Hutus. But she clearly states that her story is not intended to be a history of Rwanda or its genocide. Thankfully, she does offer enough background information, in addition to maps and pictures, to keep even the most uninformed reader afloat. Above all, Immaculée offers a tale of forgiveness and a recipe for prayer, where acting with Love — acting through God and not reacting to violence — heals even the most wounded souls and countries.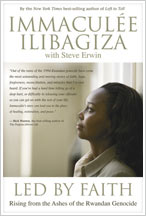 Many people in Rwanda, including Immaculée and her family, weren't even aware of the magnitude of hatred swelling between the Tutsis and Hutus — hatred so strong that it would rip apart generations of families and forever change the country.
In a matter of months, one million people were killed in the Rwandan genocide, and those who survived were left with unfathomable heartaches and pain from losing their family, friends, and homes. As one of the Tutsis spared in the slaughter, thanks in part to the aid and shelter of a family friend (although not spared from the grief of losing most of her family and home), Immaculée felt like she was "left to tell" her experience. Even her journey of writing her story and finding a coauthor is told in the later pages of Led by Faith.
Immaculée's firsthand account testifies to the uplifting arms of God and the strength that manifests itself when it's most needed. And within the first moments of the violence, Immaculée learns that constant, continuing devotion to God makes someone a disciple. Anyone can start praying; few continue.
Before Rwanda erupted in uncontrollable violence, Immaculée saw the strength of disciples in her family and closest friends. After all, it was her spiritual discipline and unwavering faith that had helped her through her schooling, landing scholarships and acceptance into university.
One of the last messages shared by her father, who only saw the kindness of people and not race or tribe, with a group of 10,000 Tutsis camped out by Immaculée's family home — was one of hope: "Love will always conquer hatred. Believe in yourselves, believe in each other, and believe in God!" (Left to Tell, 50). Maybe it was this hope that helped her survive the genocide. Even those who later betrayed her trust, siding with the Hutu extremists and murderers, she still doused with love and forgiveness.
So what was her recipe for forgiving the murderers of her family, her friends, and her home? Immaculée's prayers — her conversations with God almost every hour while she was hiding in the Hutu pastor's bathroom with seven other women for 91 days — were laced with gratitude.
Her prayers included many stories from the Bible. She often asked to be spared like Daniel while in the lions' den. And when she felt she had no one to turn to for help, she prayed for a Good Samaritan. Her prayers were her armor, sheltering her from the violence, protecting her from the hate, doubt, and self-pity welling up inside.
After surviving the genocide, Immaculée continued to be "led by faith" as she rebuilt a life in Rwanda, and later in America. Looking back on her three-month stay in the pastor's bathroom, she notes in her second book that "physical imprisonment could be spiritually liberating" (Led by Faith, 21). And she realizes the importance of never losing faith, a message worthy of repeating. Even without physical imprisonment, although some of us may at times feel bound by pain or hardship, her message is clear: "With Him all is possible" (Led by Faith, 20).
Although some secondary events are glossed over, forcing readers to connect one too many details, the books still resonate beautifully, each sharing Immaculée's true story of extreme terror and loss, and of her unfolding faith prayers. And when read as a pair, Left to Tell and Led by Faith resound in perfect harmony.
Stories of the massacre and devastation that plagued Rwanda over a decade ago can easily fill the pages of many books, and maybe you've already heard some of them. But the story Immaculée tells is different. Her story attests to the power of forgiveness — a power all too often preached and not practiced. Her experiences in the Rwandan genocide tell of a universal evil and prejudice, invite us all to join in a search for salvation, and connect us as children of a powerful God. Immaculée's eloquent voice in both Left to Tell and Led by Faith is a tribute to the work of God: "[His] message extends beyond borders" (Led by Faith, 209).