Love Does
By Bob Goff
Categories: Inspirational People, Jesus' Commandment - To Love as He Loved, Jonah, Joseph, Joshua, Moses, Spiritual Living
Love. It's all we need. But stockpiling loving thoughts and feelings isn't enough. Love requires action. In Bob Goff's aptly titled book, "Love Does," love's actions lead to an incredible way of living.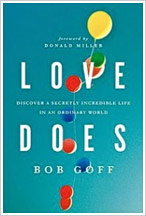 "Love Does" is a love story – a book of many love stories. From the very beginning, we witness the power of what love does and the unstoppable good that comes from it. According to Goff, "That's the way love is – not unlike loaves and fishes, its impact multiplies" (136). In the book's foreword, Goff's friend Donald Miller describes how Goff has changed his life. And this theme carries through each story; actions big and small become the products of faith and the willingness to live love – from freeing a child from a Ugandan prison or digging wells outside a refugee camp in Gulu to telling someone words of encouragement or simply writing a letter.
Goff doesn't offer up a sappy romance novel or a preachy parable. Instead, he shares an explosively funny autobiographical adventure: helping a stranger stage an elaborate marriage proposal in his backyard, sailing from Los Angeles to Hawaii having only taken a crash course in using navigational tools, waiting for a week outside the dean's office in hopes of getting into law school (since his grades weren't enough to earn him admission), and racing motorcycles across a desert to fulfill his son's 10th birthday wish. And these are everyday events for Goff. The lessons drawn from these remind us that great adventures don't wait for us to plan them or get every detail right; they happen because we just do them, says Goff. They are rooted in following Jesus' example. "I learned," Goff says, "that fully loving and fully living are not only synonymous but the kind of life that Jesus invited us to be part of" (16).
And we all have an open invitation to join in. Love is not stationary, and neither is life. They take participation. Note: The words loving and living are also interchangeable, according to Goff, especially when texting: "Almost every time I type in the word love, it gets changed to the word live" (16).
Many lives were changed by Goff's love-powered actions – including that of his friend Doug, who was the butt of many of Goff's practical jokes – and Goff's life was changed as well. It all happened, and continues to happen, because he wasn't just observing or listening; he was doing and being God's plan everyday. When God has something to say, Goff says, "He doesn't pass us messages, instead He passes us each other" (144). And sometimes He passes us Bob Goff just to remind us that love truly does.