Give Love
What can you give for Christmas this year? It's a different question than, "What do you want?" And it's an important difference.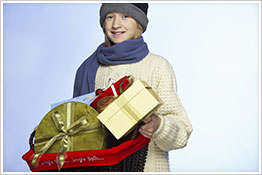 When we give, and give freely, we actually feel as good, or even better, than when we get. That's because making others happy increases our happiness. These are not empty words. This has been proven through scientific analysis and study. Don't we all want to be happy?
So what's the best gift that we can give? It's love, as Paul wrote almost 2000 years ago (1 Cor 13:13). Think about it for a moment. What are you really longing for? What will really satisfy you? Are you or your friends wishing you were in a relationship or had better friendships? Wish you felt closer to family members? Wish you felt part of a group? Wish you felt better about yourself? Those wishes are all answered by love. Giving love, not just getting love.
How do we give love this Christmas and continue it throughout the year? It's easy to love those who are loving and lovable. But it's not so easy to love those who have hurt us, who are angry, who generally do bad or ugly things, etc., etc.
But it's the ones who seem least deserving of love who actually need love the most. Why? Because those people usually have something going wrong in their lives. They don't know how to deal with it, so they take it out on others. It's the bully concept. It all starts from fear, predominately. The antidote to fear is love—plain and simple.
So it'll take a lot of commitment—the commitment to be the children God created and the commitment to see the children God created. And by the way: we're all God's children—all of us. We see God's children by separating the ugly action from the person who did it.
Think of all the negative, destructive, non-loving behavior as a costume that has nothing to do with the person. The costume is just clothing that can be taken off. It's not part of the person—no matter how convincing the costume is. We need to look past the costumes of anger, revenge, hatred, betrayal, cheating, you name it, that people put on to see the real, genuine, true individuals God created out of love.
God loves every single child abundantly, unconditionally. No one is left out of God's love. If we can see that person as God's beloved child, then we are seeing as God sees. And that brings about healing. It may bring healing to them and transform them; or it may not. But it will bring about healing in our lives. It will give us a greater sense of happiness, peace, and love. We will be filled with the power of love. So we are not only giving them the greatest gift ever, we have also given ourselves the greatest gift.
This Christmas and beyond, let's give: "Trust steadily in God, hope unswervingly, love extravagantly" (The Message, 1 Cor 13:13).