True Charity is Love
There is a great need in the world for charity today -- a need to reach out and help the victims of terrorism, tsunamis, hurricanes, floods, earthquakes, poverty, abuse. And indeed, the world's people have risen to the need, pouring out abundance from their charitable, generous spirit and unselfish love. But there have also been occurrences of mismanagement and misuse of donations in charitable organizations, and there's a concern that our money won't get to the people who need it most. Nevertheless, it is heartening to see that the desire to help still overrides our concerns.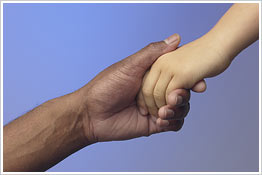 Sometimes, it seems that no matter how much money, food, shelter, or clothing is sent to aid others, it's never enough. So, in the midst of rebuilding and in the spirit of the holiday season, let's examine charity more closely to make sure our outreach has a powerful effect and to understand what is truly enough.
As we study Webster's original definitions of charity, we discover that charity is much more than just giving money or clothes. Charity is an attitude, a quality or characteristic, a way of life based on love.
Charity (some definitions according to Webster) --
In a general sense, love, benevolence, good-will; that disposition of heart which inclines men to think favorably of their fellow-men, and to do them good. In a theological sense, it includes supreme love to God, and universal good-will to men. I Cor. xiii. Col. iii. I Tim. i.
In a more particular sense, love kindness, affection, tenderness, springing from natural relations; as, the charities of father, son, and brother. Milton.
Liberality to the poor, consisting in alms-giving or benefactions, or in gratuitous services to relieve them in distress.
Candor; liberality in judging of men and their actions; a disposition which inclines men to think and judge favorably, and to put the best construction on words and actions which the case will admit.

The highest exercise of charity is charity toward the uncharitable. Buckminster
What a wonderful broadening and deepening of the concept of charity these definitions offer! Boiling them down, true charity requires that we 1) love God supremely, and 2) love others. This sounds a lot like Jesus' two great commandments to us:
And thou shalt love the Lord thy God with all thy heart, and with all thy soul, and with all thy mind, and with all thy strength…. And … Thou shalt love thy neighbour as thyself. (Mark 12:30, 31)
In order to be truly charitable, we must:
love God supremely
be benevolent
have universal good-will to everyone
think favorably of others
do good to others
express kindness, affection, and tenderness
give
judge others favorably
assume the best, take the best possible interpretation of what others say and do
Are we expressing charity in our daily lives (even to those people who are not obvious victims)? Are we giving people the benefit of the doubt; expressing kindness to the server who waits on us; feeling good-will toward the other drivers on the road?
It is not enough simply to give to charities. St. Paul's letter to the Corinthians confirms this:
And though I bestow all my goods to feed the poor … and have not charity, it profiteth me nothing. (KJV I Cor. 13:3)
It is widely known that the word "charity" in Paul's letter means "love." James Moffatt's translation of this same passage is: "I may distribute all I possess in charity ... but if I have no love, I make nothing of it." J. B. Phillips translates this last part to say, "…but have no love, I achieve precisely nothing." And Eugene Peterson paraphrases in The Message, "If I give everything I own to the poor … but I don't love, I've gotten nowhere. So, no matter what I say, what I believe, and what I do, I'm bankrupt without love."
Bankrupt! Nothing! Nowhere! Henry Drummond, a nineteenth-century professor, scientist, and theologian, helps us understand these ideas as he examines the comparison between charity and love. In his supreme analysis of Paul's discussion of love, The Greatest Thing in the World, Drummond writes:
"[Love] is greater than charity, again, because the whole is greater than a part. Charity is only a little bit of Love, one of the innumerable avenues of Love, and there may even be, and there is, a great deal of charity without Love. It is a very easy thing to toss a copper to a beggar on the street; it is generally an easier thing than not to do it. Yet Love is just as often in the withholding. We purchase relief from the sympathetic feelings roused by the spectacle of misery, at the copper's cost. It is too cheap -- too cheap for us, and often too dear for the beggar. If we really loved him we would either do more for him, or less." (16-17)
What do we do when we walk by a beggar on the street?
Do we give him money and thus feel satisfied that we have done enough for him?
Or do we ignore her and wish that she wouldn't be an eye-sore?
Or do we fear him as a threat to our safety and cross to the other side?
Do we buy a meal for her rather than give her money?
Or do we do what Jesus and his disciples did -- pray for him, and heal him?
When the apostles Peter and John were going into the temple, there was a lame man who was asking for alms. Though the man was "expecting" money, he received "less" and "more." He received less pity and more love, less money and more worth, less limitation and more freedom, less pain and more health. When the man looked up at them, Peter responded: 
Silver and gold have I none; but such as I have give I thee: In the name of Jesus Christ of Nazareth rise up and walk. And he took him by the right hand, and lifted him up: and immediately his feet and ankle bones received strength. And he leaping up stood, and walked, and entered with them into the temple, walking, and leaping, and praising God. (Acts 3:6-8)
This is true charity. Their pure desire to help him, their love for him, and their love for and confidence in God transformed this man's life. This is the kind of charity we need to be expressing to all of humanity -- regardless of whether or not they've been victimized by natural disasters, crime, or abuse; or stereotyped into religious, economic, social, or ethnic groups. Drummond emphasizes:
Without distinction, without calculation, without procrastination, love. Lavish it upon the poor, where it is very easy; especially upon the rich, who often need it most; most of all upon our equals, where it is very difficult, and for whom perhaps we each do least of all. (23)
While this type of charity doesn't take money, it takes:
an overwhelming sense of love for humanity to set aside labels and limitations;
a willingness to subvert self in order to serve others;
the humility to listen to God to hear how best to help others;
a great effort to discipline our thought so we maintain a favorable outlook of others -- regardless;
the courage (which Peter and John had) to see beyond immediate appearances -- to see beauty and perfection where there appears to be just the opposite;
an expectation of good;
the conviction that since God is indeed Love, that Love meets everyone's needs, for that is the loving and principled thing!
Of course, this does not mean that we don't give our clothes, food, money, and aid to those who need it. Rather, this discussion reminds us that in order to do the most good, in order to be truly charitable, in order to transform and elevate lives, we must lavish love upon others, just as God lavishes love upon us. What a precious gift it is to give the gift of love. Love is indeed enough for "Love never fails" (Phillips, I Cor. 13:8).
Works Cited
Drummond, Henry. The Greatest Thing in the World. White Plains, N.Y.: Peter Pauper, (1st pub. 1874).
Webster, Noah. The Student's Reference Dictionary (abridged version of Noah Webster's "American Dictionary of the English Language"). Dorris, CA: Keystone, 1975.
Below are the passages to which Webster referred in his definition of charity.
The way that I Cor. 13 has been interpreted by various Bible scholars is quite thought-provoking and enlightening. So, four different translations or paraphrases are provided. 
Have fun noting the characteristics of love in the different selections -- what it means to love and how it plays out in our dealings with others.
It's interesting to note how many of the characteristics of love are in Webster's definition of charity.
Colossians 3:14 KJV
And above all these things put on charity, which is the bond of perfectness.
Timothy 1:5 KJV
Now the end of the commandment is charity out of a pure heart, and of a good conscience, and of faith unfeigned:
I Corinthians 13:1-13
King James Version (You may want to substitute "love" every time you come across "charity," as it is translated in so many Bibles.)
Though I speak with the tongues of men and of angels, and have not charity [love], I am become as sounding brass, or a tinkling cymbal. And though I have the gift of prophecy, and understand all mysteries, and all knowledge; and though I have all faith, so that I could remove mountains, and have not charity, I am nothing. And though I bestow all my goods to feed the poor, and though I give my body to be burned, and have not charity, it profiteth me nothing. Charity suffereth long, and is kind; charity envieth not; charity vaunteth not itself, is not puffed up, Doth not behave itself unseemly, seeketh not her own, is not easily provoked, thinketh no evil; Rejoiceth not in iniquity, but rejoiceth in the truth; Beareth all things, believeth all things, hopeth all things, endureth all things. Charity never faileth: but whether there be prophecies, they shall fail; whether there be tongues, they shall cease; whether there be knowledge, it shall vanish away. For we know in part, and we prophesy in part. But when that which is perfect is come, then that which is in part shall be done away. When I was a child, I spake as a child, I understood as a child, I thought as a child: but when I became a man, I put away childish things. For now we see through a glass, darkly; but then face to face: now I know in part; but then shall I know even as also I am known. And now abideth faith, hope, charity, these three; but the greatest of these is charity.
The Message by Eugene Peterson
Love never gives up.
Love cares more for others than for self.
Love doesn't want what it doesn't have.
Love doesn't strut,
Doesn't have a swelled head,
Doesn't force itself on others,
Isn't always "me first,"
Doesn't fly off the handle,
Doesn't keep score of the sins of others,
Doesn't revel when others grovel,
Takes pleasure in the flowering of truth,
Puts up with anything,
Trusts God always,
Always looks for the best,
Never looks back,
But keeps going to the end.
The New Testament in Modern English (Rev. Ed.) by J.B. Phillips
If I speak with the eloquence of men and of angels, but have no love, I become no more than blaring brass or crashing cymbal. If I have the gift of foretelling the future and hold in my mind not only all human knowledge but the very secrets of God, and if I also have that absolute faith which can move mountains, but have no love, I amount to nothing at all. If I dispose of all that I possess, yes, even if I give my own body to be burned, but have no love, I achieve precisely nothing.
The Bible. A New Translation by James Moffatt
Thus
I may speak with the tongues of men and of angels,
but if I have no love,
I am a noisy gong or a clanging cymbal;
I may prophesy, fathom all mysteries and secret lore,
I may have such absolute faith that I can move hills from their place,
but if I have no love,
I count for nothing;
I may distribute all I possess in charity,
I may give up my body to be burnt,
but if I have no love,
I make nothing of it.
Love is very patient, very kind. Love knows no jealousy; love makes no parade, gives itself no airs, is never rude, never selfish, never irritated, never resentful; love is never glad when others go wrong, love is gladdened by goodness, always slow to expose, always eager to believe the best, always hopeful, always patient. Love never disappears. As for prophesying, it will be superseded; as for 'tongues,' they will cease; as for knowledge, it will be superseded. For we only know bit by bit, and we only prophesy bit by bit; but when the perfect comes, the imperfect will be superseded.
When I was a child, I talked like a child, I thought like a child, I argued like a child; now that I am a man, I am done with childish ways.
At present we only see the baffling reflections in a mirror,
but then it will be fact to face;
at present I am learning bit by bit,
but then I shall understand, as all along I have myself been understood.
Thus 'faith and hope and love last on, these three,' but the greatest of all is love.