Valentine's Day and Thoughts on Love
Valentine's Day is a day of love, usually associated with romantic love. But it's also an opportunity to express loving gratitude for friends, family, teachers, co-workers, etc. And there are lots of fun traditions surrounding the day—homemade Valentine's cards, chocolates, flowers, little candy hearts with writing on them—what's not to like about that?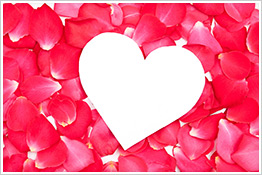 But as we hit those teen years, and often after, the focus on the romance can elicit feelings of angst, loneliness, or inadequacy if there's no significant other, or over-the-top excitement or infatuation if there is. These options aren't that great. Why? Because we're basing our happiness or well-being on someone or something else.
We're told we have to have a boyfriend or girlfriend to be happy, cool, popular, or to feel good about ourselves. The images TV and social media bombard us with are filled with sensuality and amorality. It can be pretty tough to stay untouched by all the images and mixed messages in the media. We often end up with a whole mess of feelings.
We have other options, though. We don't have to define love in the world's terms. We can define love in God's terms.
So what do we know about God's love? We know that God is Love. The biblical writers emphasize God's mercy and lovingkindness time and again. We know that we are created in God's image and likeness (Gen 1:26). We also know that we are God's children. So "since we are his children, we are his heirs" (Rom 8:17 NLT).
We are the image and likeness of Love, so we express Love.
We are the children of Love, so we already are in a loving relationship.
We are the heirs of Love and inherit only Love.
This actually makes it a whole lot easier to love because we don't have to love others by some force of our own, or conjure up feelings of love because we think it's our Christian duty.
This Love that we express and share is not human love. It's not limited. So we don't have to worry about running out of love, not being able to love someone who seems difficult to love, or not finding the right type of love.
Its source is not in physical or emotional attractions which have beginnings and endings. Its source is God. Therefore, it is not dependent upon another person, nor is it based on certain looks or conditions.
We don't have to fear that we've missed out on love, or try to manipulate or control love. This Love brings peace and is ever-present.
This Love is the very essence of life. This Love is divine. This Love is never temperamental, never biased. This Love is always available, is totally powerful, and is always ours.
All we need to do is to allow God's love to shine through us. If we try to love from a human standpoint, we will miss the point of love. We will search for it all our lives and never really understand it or feel the blessings that come from Love.
But if we strive to understand what "God is Love" really means, how it feels to be loved by God, how we can best love others by allowing God's love to shine through us, then we cannot be fooled by false love. As a result, feelings of angst, loneliness, infatuation, or sensuality will dissipate. We will discover that our loving relationship with God will make our relationships with others more real, lasting, and beautiful. We will never find ourselves without love. Rather, we will be in love our whole lives because we live in Love.