A Two-King Christmas
A Christmas sermon blesses a woman throughout her whole life.
Categories: Abundance, Gratitude, Jesus' Birth, Loss
When it seems the whole world is singing "Joy to the World," there are those whose hearts are aching. Many years ago, I heard a sermon sensitively preached which I think of every year as Christmas approaches. The man told of a children's Christmas program, in which only two kings showed-up because the third had chicken pox. There had been some brief panic and hurried deliberation as to whether or not the two kings should be used at all; then it was decided that they would go on, but changed the words to the song they were singing:
"We two kings of Orient are
bearing gifts we traverse
afar......"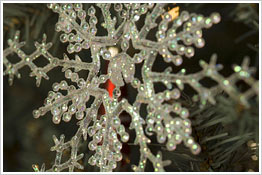 The speaker went on to talk about how most of us, at one time or another, have a "Two King Christmas." That is to say, we come into the holiday time with something missing. There has been a loss, an interruption, a crisis, which has left us feeling incomplete. There's an empty space. Perhaps a dear loved one has passed away during the year; perhaps we have lost the ability to drive a car; maybe we've experienced financial crises; or a close friend or family member has moved away. Many situations can bring on a two-king Christmas.
The thing is, we don't just stop everything, crawl into a hole, and stay sad; we go on. We "change the words to the song," just like the two little kings in the Christmas program. A two-king Christmas is okay if that's what we've got!
We need to remember that the King of Kings is still the KING OF KINGS. He was born in a manger in Bethlehem. The angels heralded our savior's arrival in that humble setting.
No matter what we have lost this year, each of us has a wealth of blessings from the Lord. Let's take notice of them and focus our attention on what we have. Even if we're alone, we're not really alone. Christ Jesus, God's wonderful Christmas gift to us all, is as near as our breath. He wants to surround us with His peace. In John 14:27 we read these words of Jesus: "Peace I leave with you; My peace I give you. I do not give to you as the world gives. Do not let your hearts be troubled and do not be afraid."
So, let's all have the very best Christmas we can, with however many kings we have in our lives. We are a blessed people.