Finding a Place to Live
Christine Villaman shares how God found her family a place to live just in time and in a great location in Spain, where they'd be living for a year.
Categories: Fear, Guidance, Power of Prayer
My husband and I decided to live in Spain for a year with our two early-teen boys. So about 15 months before we moved there, the two of us went to Barcelona for two weeks to prepare. While we were there, we met a wonderful entrepreneurial man who ran a Spanish language school that tailored to our needs. Our kids are hip-hop and break dancers. We found an amazing dance school (the largest in Spain and well renowned in Europe) and met with the founder and director. She was cheerful and accommodating and made us feel like she could not wait for our boys to join her school. We were really excited. Everything was falling into place.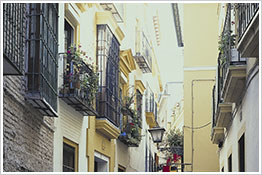 We had an apartment where we would live for the first month in Barcelona, which was in itself a demonstration of God's love for us. When we got to Barcelona, we immediately began looking for a permanent place to live for the rest of the year. We found one that we all really wanted. After we walked through it, the company called us back and said it had been rented. We were all upset. I became fearful that we weren't going to find the right place in time to gain our residency.
So I prayed. I try to live my life trusting God. As God's "image and likeness," I reflect the harmony that God gives us. I can be aware of peace and present with that harmony instead of living with doubts. Rather than worry, I listen for God's harmonious guidance. So that's what I did. I listened, and I realized that God was saying, "This isn't the right place for you. Even though you think it's good, I have something better for you." That took a lot of letting go for me.
We had a trip planned to Italy after our first month in Barcelona, which meant we couldn't look at apartments in person. But we trusted that God would lead us to the place He wanted us to live. We went on our trip to Italy without having a home to go back to in Spain. So I spent time looking online. I still hadn't found anything when we returned, so we stayed with a friend we had met, who graciously insisted that we stay with him until we found an apartment. And then, God provided something different. Feeling I needed to be open to new ideas and follow God's direction, I decided to look at an apartment in an area I had not thought we would want to live.
When we walked into this apartment, the boys both said, "I could live here." While there were a few things I didn't like, there were more things I did. It turned out to be perfect for us. The layout was good for homeschooling. The kitchen was larger and more modern than others we had looked at. It was a better location than the one we had originally liked. It had a great view and didn't have street traffic. It was close to the little shops and cafés so we could hear the musicians playing at the restaurants. It was beautiful and atmospheric. It accommodated all the guests who visited us from the U.S. And this place was not available when we were originally looking. The timing of God's plan was ideal.
Truly, this is only one of many experiences that proved God was guiding us throughout our time living abroad. He gave us the gentle directive to make this choice for our family, and He opened the way for us—not only where to live, but where to travel, beautiful new friends to meet, and most of all, new ways of seeing His diverse and wonderful universe.