Help for Boaters Stranded in Storm
How God answered our prayers when our boat wouldn't start during a thunder and lightning storm
Categories: Fear, Gratitude, Guidance, Power of Prayer, Safety
Our boat wouldn't start … and wouldn't start. The clouds were already darkening, and a thunder and lightning storm was imminent. We had had a great morning on the mountain lake wakeboarding and swimming with our young children. Now it was time to head back to the dock and get out of the water.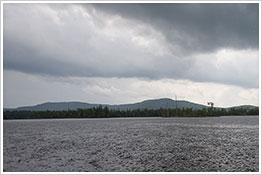 But the boat engine wouldn't kick in. There were boats and people around, but at a distance. We have towed broken-down boats before, and boaters are generally quite willing to help each other out. But no one had noticed our many attempts to start the engine.
So we prayed. That's what our family does. We called out confidently to God, trusting in God's protecting care, knowing a solution would come. There's a psalm my granddaddy loved that was totally applicable to our situation:
Whither shall I go from thy spirit? or whither shall I flee from thy presence? … If I take the wings of the morning, and dwell in the uttermost parts of the sea; Even there shall thy hand lead me, and thy right hand shall hold me. (Ps 139:7, 9, 10).
God answered our prayer quickly. A boat with two dads and their kids came close by ours, headed for a nearby sandbar. I called out, and they offered to tow us once they dropped off their kids on the sandbar.
Because of the drought, the only available boat launch was two miles away. We connected the boats with our lines, and started a very slow journey. At the same time, thunder roared and lightning struck behind us over the mountains. We called a dear friend to tell her the situation and ask for prayerful support.
The storm was quite spectacular. I would have enjoyed it more from the shelter of the cabin than from where we were in the middle of the lake. My husband pointed out the beauty of the lightning to our young son, while I assuaged our daughter's very vocal fears. Our assurance that God was indeed protecting us and caring for us, as the towing indicated, helped us all settle down.
But as the lightning became more frequent, I realized that I was scared. At that very moment, it became clear to me that I couldn't be afraid and pray at the same time. Jesus calmed the storm. He didn't stand in fear of it. He said to the waves, "Peace, be still!" (Mark 4:39). And the storm stopped. He also told his disciples they didn't need to be afraid. God was in absolute control of the situation.
The two kind fathers brought us to the launch and refused the money we offered them. They headed back to the sandbar to their families with our deep gratitude.
This experience was clear proof to our children of God's power and presence. On the way home, we talked about how we don't have to be afraid; how important it is to stay calm so we can pray; but most importantly, how God always takes care of us. Our children understood this and expressed gratitude to God for taking care of us all, including our new dog.
When we arrived home, our friend had hot chocolate waiting for us. It was exactly what my daughter had said she would love to have when we got home. And no one had asked our friend to prepare it.
We are all deeply grateful for God's guiding and protecting presence in our lives.