Jabez and Roxie
Jeanne Sparks, an accomplished horsewoman, shares a personal experience in which the prayer of Jabez helped her work with and train a difficult horse. Jeanne first wanted a horse when she was three years old. For close to thirty years she has owned and worked with horses.
Categories: Guidance, Jabez (Prayer of Jabez), Loving and Forgiving, Power of Prayer
Who are these people? Or are they people?
If you go to your Bible and locate I Chronicles 4: 9-10, you will find out who Jabez is. There is not much in just two verses as far as what he looked like, how he behaved, how many friends he had, or anything else. However, his name appears amidst hundreds of names of leaders. Yet, he was more than a name because he had a prayer (verse 10) that brought success to his life. This four-line prayer spoke to me and since finding it, I have realized that the basics of prayer have existed for centuries and have been used throughout the Bible by prophets and kings. Jesus expressed the same format in his Lord's Prayer presented in the Sermon on the Mount. So the continuity of the basic elements of prayer is there. And it works, every time!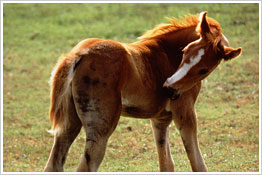 Roxie is a three-year-old registered paint filly living in the state of Washington. My neighbor, friend, and animal caretaker in our absence, was boarding Roxie and her mother when we first became neighbors. Soon after, Roxie's owner moved Roxie and her mother away from my neighbor's care. Last December, my neighbor received a call to rescue them from a dire situation. Although the mare had been handled and ridden, the baby had been left to its own devices. Roxie was never fed properly, never wormed, never handled—just put out to pasture. The mare was quickly sold; the problem was what to do with Roxie, this obnoxious, ill-mannered, fearful, not so pretty, malnourished small horse. My friend wanted no part of keeping her, which was unusual as she has at least a dozen horses on her property. Just going into the horse's stall was impossible because of her violent kicking. The horseshoer tried trimming her feet and…what a battle!
My friend and I have been learning and practicing the natural horsemanship way of working with our horses. I have the perfect, safe horse set-up for training. So, I suggested she bring Roxie to my place, which is within walking distance (forget trying to get her in a horse trailer!), and I would play with her to see what I could accomplish in an effort to improve her to the point of making her saleable. I spent about three hours with her, and there was definite improvement. I decided to take Roxie (I had an extra stall) for a couple of months to hone my own skills with a horse that wasn't my own and to help my friend.
Roxie, Jabez, and I worked together for two months. Daily, hourly, continually during our sessions, I prayed the first line of the prayer, "Oh, that you would bless me indeed." I asked God to bless me with consistency, patience, perseverance, and the right ideas to work with Roxie. We both had to be blessed, made happy, successful, nurtured. God created all creatures, including horses, so God was in charge of each training session. God's angels spoke to Roxie and to me. We each had to listen and obey. We had to be a team.
The second line of the prayer, "and enlarge my territory," meant to me that all sense of limitation could and would vanish. What I needed to know, how to do it, and when to do it (timing is everything) all have their source in God's wisdom and understanding. I prayed for ears to hear what God was saying and for Roxie to hear the same message so she could respond accordingly. I asked for my skills to be fine-tuned. God spoke clearly to Moses and others, so I just expected he would speak to me. He did!
The third line, "that Your hand would be with me," was particularly important because one of the tools of the trade is a four foot stick with a six foot string attached to it. This acts as an extension of my arm/hand so that I can maintain a safe distance when giving instructions to the horse. I really needed God's hand holding my hand so I could cue Roxie effectively.
The fourth line, "that You would keep me from evil, that I may not cause pain," was for both of us, too. I needed to be firm in my thinking that she was already the way God created her—perfect, very good, as set forth in Genesis 1. I did not need to hurt her to get her attention or to react out of discouragement or anger because she made a mistake. Furthermore, she had no reason, fear, nor anger to kick at me.
Healing was taking place daily in little steps and sometimes big steps. My learning to relax (let go of human opinions) and breathe (let inspiration direct this adventure) were huge steps for me. Roxie responded wonderfully. She started to grow with the good nutrition she was given. Her crooked legs started straightening. The look in her eye changed from fear to trust; she was calm and obedient, and she quit kicking. The horseshoer came and trimmed her feet in about 10 minutes with no problem. Trailering is now a cinch. All in all, there were about 30 tasks Roxie would do willingly with the lightest of touches when she left after our two months' work together. We were both healed. In addition, my own horses are responding faster, and I am at peace working with them.
My friend's attitude toward Roxie totally changed during these two months, and she has continued to work with her these last two months with great success. The result of Jabez' prayer is, "So God granted him what he requested." I requested God's assistance in helping Roxie to experience growth in all areas and prayed for her to be in a home where she would be very much loved. This last weekend Roxie was sold to a young girl who lives on 20 acres. So God granted my requests!