Overcoming Feeling Alone
Nicholas shares how he felt alone in a different country and found comfort in the story of Joseph.
Categories: Fear, Guidance, Joseph
I am very grateful for the stories in the Bible because they have given me comfort when I've needed them. My family went to live in Spain for a year. I wasn't very excited about going because I thought I'd be missing out a lot on my usual activities and friends.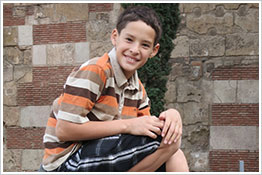 I felt like Joseph being taken to Egypt. I was in an unfamiliar land, and I didn't know anyone there. So, like Joseph, I had to know that God was always there with me, even if things did not seem to be going how I wanted at first. In the middle of the year, I felt very sad and wanted to come home. Nothing seemed to be fun there anymore.
But God helped me out and showed me how great things could be when we went on a trip to a dance convention with all our dance friends. It was one of the most fun times I had the whole year. It was like Joseph's life turning around and becoming happy again.
I was sad when we had to leave all of our friends, but I was also happy that I could come home again. I am very thankful for the experience.
Read about the fun and growth Nicholas and his brother had while living for a whole year in Spain.