Fever Healed
Sometimes all it takes to stop feeling sick is an activity that helps us focus on God. Find out how playing with Legos helped heal a child with a fever.
When my son woke up one morning and was not feeling well enough to do any homeschooling studies because he had a fever and very low energy, we turned to God for help. We read some Bible passages to help us realize God's healing presence in this situation. We talked about how much God loves us and keeps us safe from harm of all kinds. God is always with us to assure us of our peace and health.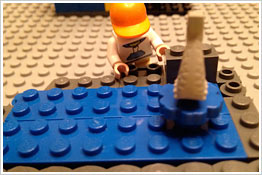 At this point, I gave my son and his brother an assignment: create the 23rd Psalm in Legos. Their eyes lit up with delight. They set to work designing and constructing each "scene" -- passage by passage.
I knew this project would allow both of my sons to focus diligently on God's Word, on His beautiful promises as set forth in Psalm 23. This Psalm lets us know that our God comforts us, gently and abundantly supplies all our needs no matter what our troubles, and fills our lives with goodness and love.
The son who had not been feeling well said he had a peaceful feeling of God's love when thinking about the passage, "He maketh me to lie down in green pastures: he leadeth me beside the still waters." He also said he felt much joy and just had to smile over the passage, "My cup runneth over." He knew how God pours out so many blessings to each of us.
Once the Lego creation was completed, he was radiant and feeling much better. His physical condition continued to improve quickly until he was completely healed. We were all grateful for God's healing message in Psalm 23!