Restaurant Owner Trusts God's Direction
Ray Villaman worried about leaving his restaurants for a year to live in Spain with his family. Trusting that God is in control brought healing.
Categories: Fear, Guidance, Power of Prayer, Putting God First
The thought of taking my family to live abroad in Spain for a year had been intriguing to me for quite some time. Now, we were finally doing it. But I had some definite concerns regarding my businesses. We owned two restaurants and were starting up another. The opening date kept getting pushed out closer and closer to the time we were to leave for Spain. This was a critical time for the new restaurant. I wondered if it was a good time for me to be away. New restaurants always need adjustments. Who would lead these efforts?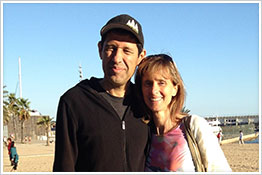 I was feeling guilty for leaving since I was the one who normally oversaw the day-to-day operations of our restaurants. Even though I knew I was leaving the operations in the hands of a seasoned, experienced, and capable management team, I still worried. I struggled with letting go, with relinquishing the idea that I was at the center of our businesses. My only relief was to turn to prayer and the Bible's guidance "Trust in the LORD with all your heart / And do not lean on your own understanding. In all your ways acknowledge Him, / And He will make your paths straight": (Proverbs 3:5-6 NASB).
So each week during church services, I looked for inspiration that would help me trust God's plan for the management team, as well as for our family. When fear would creep in, I would turn to Jesus' life. With each healing—Lazarus, the lepers, the bed-ridden crippled—Jesus always acknowledged that God was doing the healing work. Jesus had no personal ego. It became clear to me that my job was to let go of limited human conceptions, to give up all belief in personal power, and to understand how God was in control of everyone—the managers, our guests, the employees, and us.
But it was hard. The first two months in Spain were the most intense in terms of getting my head straight. I received numerous calls and emails which turned my focus from my family in Spain to the restaurants back home. I was worried. I turned to prayer and study.
Again, Bible stories helped. Noah must have had incredible trust that God was providing the direction and instructions to move forward. Additionally, Jesus expressed amazing trust in God's plan no matter where it led. He was committed to letting God take care of his every step. When facing challenging situations, Jesus frequently referred to God's will and not his own. These examples helped me relinquish a false sense of responsibility. I started to place more trust in God's direction than my own. I also started to trust that God, Mind, was directing our management team.
I had scheduled return trips to check in on the businesses and the management team. During each return visit, I experienced greater freedom from fear and doubt. I was determined not to lean on my own limited understanding, but to trust that God's intelligence was being expressed and blessing the entire team. I started acknowledging all the good I observed on my check-in trips and congratulated our team on the progress being made. Each visit provided an opportunity to express more gratitude, and with that gratitude came peace and assurance that our businesses were in God's hands.
Ultimately, I was able to relax and be more present on our trip abroad. As I let go of my human understanding and trusted in God's wisdom, I observed the great results our team produced. During the twelve-month period that we were traveling, our businesses achieved the highest growth results of any other year. We were also recognized in a national ranking of restaurants as one of the best "outdoor hot spots" in the country. This was clearly a result of acknowledging God's wisdom in making the paths of our management team "straight."