A New Year, A Renewing Promise
As we set goals and envision how to achieve them, we should first affirm our spiritual heritage because in that affirmation lies the promise of God's constant care.
Categories: Freshness and Newness, New Year/Change
One of the nicest gifts we receive each year is the opportunity to look at life with fresh, new eyes come January 1st. Who doesn't look back over the previous 12 months, remembering the highlight moments in the news, politics, pop culture, movies, music? Inevitably, we come to reflect on our own lives, and smile or wince as the moments flash across our mental screens. Even if we recall more good than not-so-good times, every memory ignites a desire to do more and to do it better going forward. And that's exactly what God-centered living is: leading a life that reflects the infinite goodness of our Father-Mother, God, more and more clearly and abundantly because we are made in His image and likeness – because we are the sons and daughters of God.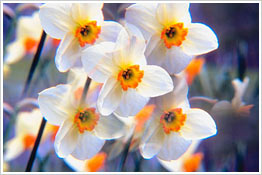 I John 3:1 Behold, what manner of love the Father hath bestowed upon us, that we should be called the sons of God:
Before we consider the ways we hope to grow, improve, strive for deeper understanding, make a larger contribution, love more compassionately and consistently – as we set goals and envision how to achieve them – we should affirm our spiritual heritage because in that affirmation lies the promise of God's constant care. Consider the Bible story of the Prodigal Son, who returns home and asks his father to forgive him for wasting his inheritance on "riotous living." When this son makes his humble apology, his father's response is a metaphor for God's steadfast, unchanging love. And those who remain faithful to God are reassured by the father's promise to his loyal, older son that "all that I have is thine" – that we are always receiving all the good God bestows. In essence, we can follow the advice of Paul in Romans:
Romans 12:2 And be not conformed to this world: but be ye transformed by the renewing of your mind, that ye may prove what is that good, and acceptable, and perfect, will of God.
Preparing for and then launching into a new year is an exciting time! It lets us shed old ways and pursue new ones based on a deeper conviction that God is guiding us each step of the way. And with that conviction comes a never-ending promise from God that gives us the inspiration, the strength, the grace, and the compassion to start anew.
Revelation 21:5-7
I make all things new.
I will give unto him that is athirst of the fountain of the water of life freely.
He that overcometh shall inherit all things; and I will be his God, and he shall be my son.
Gather the members of your family to consider the power of these different Bible verses – the promises within each one –and how they relate to your daily lives and to the goals you hope to achieve in 2012. It can be fun to write a list of new year resolutions, but perhaps this is the year to let God lead the way of progress and freshness, of more love and joy, in all our activities and relationships. There's really no better way to start than with God!