Angel Gifts
A gift given to a worthy cause in a child's name is a wonderful way to expand on the true meaning of Christmas, and to introduce the joy of giving as much as of receiving.
Categories: Christmas
With youngsters receiving so many gifts at Christmas, and considering all the "stuff" they already own, parents can introduce a meaningful alternate to the usual gifts - one that kids can really enjoy. At our house, such gifts are called "Angel Gifts" since angels are messages of love. These "Angel Gifts" are gifts given to worthy causes "in the child's name." This means that the youngsters are sharing their bounty with others. If possible, the announcement of the gift is wrapped and put within the branches of the Christmas tree as the last gift to be opened.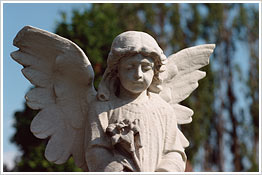 What does the Bible have to say about gifts and giving? Here are some pertinent quotes that you can share with your family:
"...all things whatsoever ye would that men should do to you, do ye even so to them:" (Matthew 7:12)
Ask children how this "Golden Rule" would apply if they lived in a very poor country and had no gifts.
".....I mean not that other men be eased, and ye burdened: But by an equality, that now at this time your abundance may be a supply for their want,...." (II Corinthians 13, 14)
What is the abundance our family has? Can it help meet the wants of others?
Read the short story of the widow with very little money (Mark 12: 41-44) Does our family have more than the widow had?
".....Love your enemies, bless them that curse you, and pray for them which despitefully use you, and persecute you; That ye may be the children of your Father which is in heaven:....." (Matthew 7:12)
Why should we share with those we don't know or might not like very much?
And finally, Paul's words:
".....now abideth faith, hope, charity, these three: but the greatest of these is charity." (I Corinthians 13: 13).
If charity is often translated as love, how can we be charitable toward or love others?
These quotes should lead you to some unusual "Angel Gifts," which you give in your child's name. Here are a few, and I'm sure you'll think of more.
Feed the Children - and other similar organizations. A monetary gift of any amount is welcome, but a quite reasonable contribution can provide food for a worthy child for a month.
The Heifer Project. It is so interesting to go through their catalog of animals you can buy for delivery to a needy person somewhere else in the world. I love the piglets, but for less money, you can give rabbits or chickens. Do include for your child a picture of the animal given in his/her name.
A youth camp. Many camps have building projects in the winter. Last year one of our angel gifts helped a camp rebuild the horse stables.
Humane Society. Good friends of ours received a cash gift (instead of the usual fruit cake) to spend on big ribbons to go around the necks of pets at the local Humane Society. With their children, they all helped to wash dogs and make them look attractive with their holiday bows. This resulted, they were told, in the highest number of holiday adoptions ever.
A worthy service person. Aware that the youth delivering their morning paper did so in the dark and had only reflectors on his bike, a mother bought bike lights in her son's name and presented them to him as the last gift to be opened. The boy rose early the day after Christmas so he could give them to the cyclist. Later he remarked, "I wonder what he'd like next year?"
Native American children. One of the most meaningful gifts is to befriend a native American child living in near poverty on a reservation. For a monthly sum, you support that child and are welcome to send books and other items, but most important, letters.
One year this last option was an "Angel Gift" to one of our daughters. For ten years she wrote letters, chose books, and contributed part of her allowance to caring for this young woman. This is done through an intermediary to protect the giver, and the contact terminates at age eighteen.
I'm sure that if you think about it, consider your local charities and places of worship, you will find the opportunity to give an "Angel Gift" to one of your children so that he/she can know the joy of sharing with others.