Christmas
This Christmas let's take time to truly enjoy the holiday season and appreciate the spiritual meaning of Christmas.
Categories: Christmas
December always seems to race by in a flash, with too much to do in too little time. Yet, we have the most precious event of the year at the end of December: Christmas, the sacred holiday, which begs for and deserves purposeful time and profound attention. In the meantime, twenty-four days march past at double-time speed, flooded with hurry and stress, frazzled feelings, high emotions, even disappointment and dismay over the endless shopping lists and over-packed calendars. Then suddenly it's Christmas Eve. What happened to the vision of enjoying the holiday season and appreciating the spiritual meaning of Christmas? Maybe next year…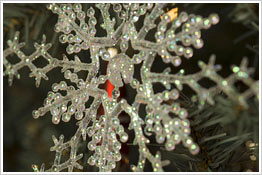 Wait! It's not too late to make a change this year! In fact, it's never too late to stop what we're caught up in doing and take stock of what really matters in life.
When it comes to celebrating the holidays, we can start with a song – or a silent prayer! – of thanksgiving. We can slow down our singing and praying so that we actually hear the timeless words of adoration for the Christ, recognize Immanuel, rejoice and give praise for God's tender expression of divine Love – His son, Christ Jesus – the greatest of gifts to all mankind. It may take extraordinary persistence to make time each day to feel and express the spirit of the Christ in all of our interactions and activities. But it IS doable, and it is decidedly worth the effort.
Every moment we take to recognize the presence of the Christ in our midst is a gift to everyone we're with as well as to ourselves. It's a gift of peace, hope, love, and joy – a gift that lasts. This is the nature of God's gift to us, which we understand and appreciate by following the example of Christ Jesus in what we say and how we act. Christmastime is a priceless "reminder-time" of our purpose and mission in life – to glorify God through Christly living.
We can all commit to meeting each day as a family – at breakfast, dinner, or just before bed – to consider the gifts we can give to those around us today. Gift ideas might include added patience, undivided attention, extra time, an offer of help, an errand of mercy, a hug of appreciation, a note of thanks – any unexpected gesture of selfless giving. Every day offers innumerable opportunities to give to another without any conditions or expectations. This kind of giving is an expression of pure joy, warming the heart and feeding the soul of both giver and receiver. In essence, it is the individual expression of the Christ made manifest in tangible, active ways. It's the true spirit of Christmas!
How else can we celebrate the season this month? The story of Jesus' birth is like a good chapter book for young people. Begin with Isaiah's prophecy (Isa 7:1); then read about the angel visitant to Elisabeth and Zacharias and then to Mary and Joseph (Luke 1). From there, the gospels detail the events that led to the Christ-child's birth amidst animals and angels, as well as the wonderment of the shepherds' sighting a heavenly host singing and praising God (Luke 1). The Wisemen travel far to find and meet Christ Jesus, and to deliver their precious gifts in honor of a most unusual king (Matt 2). Every aspect of this remarkable event – the birth of Christ Jesus – delivers a powerful message of God's love and protection, and of the fulfillment of prophecy and promise. Altogether, these are compelling reminders to us to be faithful and diligent Christians in every chapter of our own lives!
Let's not allow December to fill up with frenzy and frustration, but instead usher in "comfort and joy" and a floodtide of "peace on earth, goodwill to men"! Truly, we can sing with all our hearts, "Joy to the world, the Lord has come!" "Hallelujah! Hallelujah! Hallelujah!" (All quotes are taken from familiar Christmas carols.)
Wishing each and all a joyous Christmas!