Doers Do Deeds!
Teaching youngsters to be "doers" as well as hearers is an important lesson in compassion, life skills, and balance. Plus, a doer of the work "shall be blessed in his deed."
Categories: Family
The habit of doing good deeds is currently gaining prominence. National and local agencies are encouraging the citizenry to help one another during these difficult economic times. Colleges are looking at applications to see which volunteer activities the student participated in. Scouts and other youth groups are planning far more outreach projects than in past years. But being a doer is not some new gimmick. It's an age-old admonition: as it says in the Bible book of James (1:22), "be ye doers of the word and not hearers only, deceiving your own selves."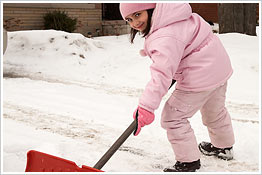 Yes, we do deceive ourselves if we just put on a grateful smile when we see a family adopt a stray animal, a church provide free summer Bible school, or an organization serve meals to the homeless. Yes, we are deceiving ourselves when we are "hearers only" and take comfort in knowing that others are the "doers." As a parent, teaching youngsters to be "doers" as well as hearers is an important lesson in compassion, life skills, and balance.
With the busyness of school, sports, homework, and friends, the scale may weigh heavily on the side of "me and what I want" as opposed to being concerned with the needs of others. However, there is concrete merit in being a "doer" as we learn from James in verse 25, where he says that someone who is not a forgetful hearer but a doer of the work "shall be blessed in his deed."
Sometimes the blessing is immediate, other times it may not be revealed for years. I know a teen who was asked to arrange the flowers for her church each week. She didn't know a pansy from a petunia but she gradually learned as she picked flowers in the gardens of different church members. Unexpectedly she found a local florist who would give her excess flowers that would not last more than a few days. Soon, she was creating large arrangements for the church auditorium, small ones for Sunday School classes, and boutonnieres for the ushers. That summer when part-time jobs were hard to find, the florist offered the teen a summer position that paid well. Later, he wrote a letter of recommendation to the scholarship committee of her school of choice describing her as a creative, responsible, intelligent person. When she left for college, the florist regularly sent flowers to cheer her plain dorm room. She was indeed blessed in many ways by agreeing to be a doer!
So how can your youngsters become "doers" and reap the blessings? Much depends on the age of a child, the time available, and local needs. Establish early on that even toddlers can help around the house: setting the table, delivering laundry, picking up trash or toys, bringing a snack to an older sibling doing homework. With these tasks, love and appreciation are the welcome blessings.
Here are areas where older youngsters can be blessed "doers":
At Church (where you can love God with all your heart, soul and might - see Deuteronomy 6:5): child care, flower arranging, preparing weekly or monthly programs and mailings, gardening, raking, sweeping sidewalks, ushering.
In School (where you can pray for those who might persecute you - see Matthew 5:44): mentoring a student, helping in the library, watching over younger kids on the playground, preparing displays to improve classroom atmosphere, helping new students find their way.
In the Community and beyond (where you can appreciate other points of view and not be offended - see Psalm 119:165): volunteering as an assistant coach, organizing a group to pick up roadside trash, sending cards to shut-ins, making tray favors for care facilities, taking an active part in a drive to collect food or clothing.
Talk with your family about being doers so that both parents and kids are deciding how to take part. Each family member can choose at least one project to try for a month. You are likely to find that you are a "doer" because it makes you feel great. And you will be surprised when those blessings come in unexpected ways.
Encourage family members to do more than talk about their Christian beliefs, but rather to put them into action.