Exercise Your God-Given Dominion!
Exercise is not just about stretching the body. In fact, it's all about stretching our thinking – breaking down self-imposed limits and discovering that we can always do more and do it better.
Categories: Sports
Kids and sports go hand-in-hand. If it's not an organized team, it's a pick-me-up game among friends. In the Fall, it might be soccer, football, rugby, cross-country running, crew, sailing, surfing, tennis, squash, ultimate Frisbee, rock climbing. There are plenty of options for lighthearted fun, good exercise, and healthy competition. What's more, all three outcomes are wonderful ways to feel the presence and power of God and to express a wide range of God-given attributes: coordination, grace, speed, precision, follow-through, discipline, determination, and control. Exercise is not just about stretching the body. In fact, it's all about stretching our thinking – breaking down self-imposed limits and discovering that we can always do more and do it better.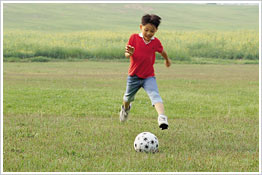 As a family, you might like to study the first chapter of Genesis, specifically where God creates man "in our image, after our likeness" and endows man with "dominion…over all the earth."
What does it mean to be made in the "image and likeness" of God?
What do we learn about God in this first chapter? (He is good, supreme, the only creator who creates all aspects of life.)
What does the earth symbolize? (All that is matter-based, limited in power, subservient to man.)
God blesses man with a lifetime purpose to "be fruitful, and multiply, and replenish the earth, and subdue it…."
Now we have a starting point for understanding our dominion over "all the earth." Participating in sports and general exercise provide endless opportunities to demonstrate our individual dominion.
When we exercise, we learn to use our bodies more effectively and efficiently. And we're discovering what it means to have dominion – to stretch and strengthen our muscles and then discipline them to work for us. Psalms 18 speaks to the strength and ability we derive from God. Consider these verses as you think about your athletic ability and your desire to exercise:
"I will love thee, O Lord, my strength" (Ps 18:1).
"The Lord is my rock, and my fortress, and my deliverer; my God, my strength, in whom I will trust; my buckler, and the horn of my salvation, and my high tower" (Ps 18:2)
"I will call upon the Lord, who is worthy to be praised: so shall I be saved from mine enemies" (my opponent, the competition, even self-doubt) (Ps 18:3).
"It is God that girdeth me with strength, and maketh my way perfect" (Ps 18:32).
"Thou hast enlarged my steps under me, that my feet did not slip"(Ps 18:36).
In effect, we are learning to control our bodies instead of letting our bodies control us. With that control comes the freedom to express ourselves with energy, enthusiasm, grace and skill – all the qualities that stem from the strong, pure desire to do our best – to glorify God.
"I will praise thee, O Lord my God, with all my heart: and I will glorify thy name for evermore" (Ps 86:12).
There's nothing more exhilarating than when our thoughts are focused and our bodies are working hard to fulfill that focused thought – to win the race, to get the job done, to reach a specific destination or to achieve a certain goal, and to do it better than we did the last time.
Fall provides great opportunities to exercise as a family by raking leaves, taking a hike, biking or rollerblading, badminton, bocci, or walking the beach. All of these activities engage everyone equally in the process, and the most important outcome is simply quality family time. While you're engaged in the activity, it can be helpful to keep in mind two things:
Simply enjoy the moment – enjoy whom you're with and what you're doing. Live in the present.
Give your best effort and don't give up. Don't quit because you're not the best, and don't back down if you are. Your example and participation are encouraging to others, giving them the incentive to do their best. Egocentric exercise is like a rocket that fizzles out and sputters. God-centric exercise makes and leaves a lasting impression of good fun, good energy, good effort.
Sometimes the hardest part of exercising is getting up from the computer, putting down the cell phone, making the time, gathering the family, or choosing an activity. If we remember that God made man to have dominion over all things and to express Him in all ways, we'll feel the energy of Spirit motivating us to move. So, let's get going!
Topics