God is Mother
Knowing God as a tender, ever-present, ever-attentive Mother affirms what it takes to be a mom, what it means to feel mothered, and how we – each one of us – can feel God's constant mothering.
Categories: Fatherhood/Motherhood
"Make Way for Ducklings" by Robert McCloskey is a delightful children's book about a plucky family of ducks…but it also stands as a shining example of mothering. Since Mother's Day is this month, it seems quite fitting to revisit this high adventure in light of what it takes to be a mom, what it means to feel mothered, and how we – each one of us – can come to know God as a tender, ever-present, ever-attentive Mother.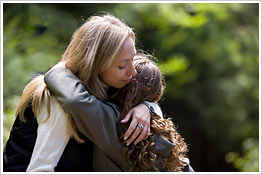 McCloskey relates the endearing story of nine ducklings that hatch on the banks of the Charles River and then waddle through Boston traffic and across city streets to make a new home in Boston's Public Gardens. Throughout their journey – from egg-hatching to paddling technique to street-crossing strategy – we feel the presence, the aura, of the mother duck, guiding, guarding, and quacking her way into the heart and soul of each duckling as it launches into the big, wide world of feather-raising adventure and duck-daring-do with each web-footed step. The end of the story leaves the reader smiling over the ducklings' safe passage. But above all, the reader is filled with admiration for Mama-Duck – for the mothering qualities she so naturally expresses:
Her intuition about where to build her nest.
Her unwavering commitment to incubate and protect her eggs.
Her tender-tough approach to raising her hatchlings to be obedient, skillful, and resourceful.
Her calm courage throughout their purposeful adventure.
Her steadfast conviction that all is well each and every day.
Truly, this is an outstanding example of a mother-in-action! A tender-loving, principle-holding, standard-bearing, 24/7 nurturing, steadying-calming-comforting-supporting, endlessly available, unchangingly loving, always-there-for-you mom.
This picture, etched anew in countless daily examples, begs the question about the infinite nature and expression of such unfathomable love: Where does it come from, and will it run out or disappear?
The answer lies in the source of these qualities and examples: an all-loving God who is Father and Mother to each of His/Her children. Let's consider what this means: God is Mother, and thus we are mothered. As we are made in the image and likeness of God, we are also mothering.
The more we understand God as ever-present and all-powerful infinite Love, the more we recognize and feel God's mothering nature, and the more we express that nature ourselves.
But, what about those moments when feeling mothered or mother-like is the furthest thing from our thought or our experience? What if the cares of daily life feel so oppressive that we're nearly convinced that no one cares about us, and that we are victims of a challenging world, with no way out? Even then, even there, the facts remain unequivocally true that God is Love, and that man is the loved and loving reflection of this divine, supreme, infinite Love.
How do we know this? Because infinity leaves no room for anything other than its own nature. Infinite Love cannot include anything unlike itself. And so, it is always there, always present, always available, always with us.
Some of the most tender, sustaining words in the Bible are found in Psalm 139 (verses 7-13). As you read them, consider how each line relates to your individual experience – and how it affirms that we are never without our Mother, God.
"Whither shall I go from Thy spirit? (Nothing I do can cause me to stray from or lose God.)
Or whither shall I flee from Thy presence? (No choice I make or scrape I get myself into can take me away from God.)
If I ascend up into heaven, Thou art there. (The good in my experience is caused by God.)
If I make my bed in hell, behold, Thou art there. (In the ugliest, even sinful moments, God is an available source of good.)
If I take the wings of the morning (If I soar above the fray of daily cares…)
And dwell in the uttermost parts of the sea, (And try to hide in the farthest corner of the world…)
Even there shall Thy hand lead me (God is still right there, guiding my every thought and step…)
And Thy right hand shall hold me." (God sustains, nurtures, comforts, and embraces me – my identity is intact.)
You might enjoy writing your own parenthetical statements as a family. And then, rest in the arms of Love – in the mothering Love that is God – trusting, as we trust our own moms, that "even there shall Thy hand lead me, and Thy right hand shall hold me."
Among the most helpful lessons of parenting are the ones that remind us that God is our Mother, nurturing us as much as we nurture our children; guiding us as much as we guide and guard them; loving us even when they aren't showing much love to us! There is no "whither" we can go to or find ourselves in where God, our Mother, is absent or diminished. Just so, we draw on that infinite resource to sustain us as mothers and fathers, even as sisters and brothers – all caring for one another.
If you'd like to meet the ducklings that traversed the streets of Boston, you will find them in the Boston Public Gardens where they waddle in a line of molded bronze. At the head of the line is their indomitable mother.
Now, what can you do to express your love for the mom figures in your life this month? And what more can you do to mother the world around you? To begin, why not read again the words of Psalm 139 and feel the tremendous, endless hug from our Mother, God!