God IS and We DO Know Him!
Family is an arena full of opportunities in which to find and to feel God. Take the time – make the time! – to talk together about what God is. These conversations will teach parents as much as children.
Categories: Family
The start of a new school year is a big deal! New teachers, new classes, new stuff – backpack, books, supplies, clothes – and new faces. There's an air of excitement – a mix of wonder and worry: How is the year going to play out? Which classes will be easy or hard? How will it go with my friends?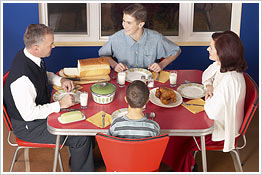 It's not selfish to ask these kinds of questions! It's normal and natural to wonder and care about how we're going to fit in with our environment and other people. The answer to these questions will be different for each of us – as different as each of us is from one another. Yet, something foundational underpins every question and answer, and assures us that there ARE answers. That something, of course, is our relationship to God. If God is a palpable presence in our daily lives, then we can approach the events and challenges of each day with a light heart, or with what I call "a smile inside and out!"
Family is an arena full of opportunities in which to find and to feel God. Take the time – make the time! – to talk together about what God is. These conversations will teach parents as much as children. I remember tucking my son into bed one night when he looked up at me with grave concern in his eyes and said, "What IS God, Mom? How do you KNOW God really exists?" I gave him rapid-fire answers: Of course you know God! God is Love, and you know what that is. God is good, and you've just had a great day! God is everywhere – you know the statement for that: 'The everlasting arms of Love are beneath, around, above.' You know God because God knows you." As I spouted these instant answers, I watched the light dim in my son's eyes and his face shut me out completely. I had "shushed" his worry, and made his questions seem trivial and obtuse. There was no way to feel God at that moment – only emptiness and dismay. It was a miserable moment for both of us!
But it didn't last long. My own words filled my thought as I kissed him goodnight. I winced. And then I wrapped my arms around him in a tender hug. His initial resistance melted, and he held on. Our breathing slowed and synchronized. It had become a magical moment of oneness. My heart swelled with a deep, abiding love for this child…and with the sudden overwhelming realization that this was a teensy iota of the love God has for each of us, His image and likeness, His child. In that moment, I knew we both "felt" the presence and the power of God. It was a totally silent moment, actually. Neither of us spoke, yet the feelings were palpable and real to both of us.
The next day before school, my son and I talked briefly and casually about knowing God. I asked him what made him feel good, and when he felt completely happy. It only took a few seconds for him to reply: when I'm doing something for someone else, when I'm making someone feel better, when I'm helping someone figure out a problem. This time I didn't jump in with my instant response of "Yes! Right! Good!" I just smiled and waited for him to completely finish his thought. And still I waited, letting the ideas he'd expressed gain traction in both our thoughts.
Finally, I replied: Very cool! You've got it! What you feel is the goodness of a pure idea coming into view. It's God communicating to man and among men. It's you giving from your heart, and trusting that you're being guided by God in terms of what to say and do. That's knowing God and feeling God's presence.
So, how does knowing God, feeling His presence, help us answer those nagging questions? With God, we can be assured of the answers unfolding before our eyes – solving, resolving, and dissolving every kind of challenge. There are some powerful statements in the Bible that help us stay tuned in to God – attuned with Him. The fact is that God is always there/here – always with us. We can't take a breath without Him. But when we think we've lost sight of God or feel far away from Him, we can turn quickly to the Bible for reassuring, realigning inspiration. And that's true for both parents and children. Here are some familiar verses to guide, govern, and guard us as we go through each and every day:
Golden Rule: "Do unto others as you would have them do unto you" (Matt. 7:12). What would we have others do? We could play the "self-centered" card – the one that wishes others would do more for us, the one that feels sad and angry because we're not getting what we think we deserve. In this state of self-deception, we are really not doing anything worthwhile – generally, we're in "whine and complain" mode, and it spirals our spirits downward. Or we can translate the "doing" into qualities: we express honesty, purity, goodness, consideration, foresight, selflessness because that's how we want to be treated – that's the kind of world we want to live in.

"behold, all things are become new" (II Cor. 5:7).
He that diligently seeketh good procureth favour; but he that seeketh mischief, it shall come unto him (Proverbs 11:27).
Apply yourself.
See the good.
Expect growth.
It doesn't get much clearer or simpler than this!
And ye shall know the truth and the truth shall make you free (John 8:32).
Free to make friends.
Free to do well in class.
Free to start fresh.
Free from the past.
Free to change course at any moment.
Free to know and feel God.
Which Bible verses would you add to this list? How do they help you answer questions? How do they assure you that God does indeed exist? If you are still, you'll hear the answers you're looking for – and you, too, will know God is with you, always.