Loving God with Vigor
Loving God with all your heart, soul, mind and strength is a vigorous order! Consider different ways that this commitment can change your attitude, your perspective, your whole life.
Categories: Love
The Bible contains many commands, but among the most important is the one in Deuteronomy (6:5):....."thou shalt love the Lord thy God with all thine heart, and with all thy soul, and with all thy might." These words are echoed by Christ Jesus in the Gospels, this time from Mark (12:30) where the writer adds "and with all thy strength: this is the first commandment."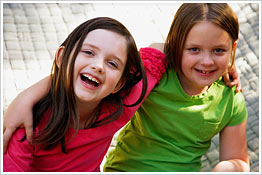 An interesting paraphrase is from "The Message" by Eugene H. Peterson: "Listen, Israel: The Lord your God is one; so love the Lord God with all your passion and prayer and intelligence and energy. Love others as well as you love yourself. There is no other commandment that ranks with these."
That's a mighty assignment for youngsters (and adults), but one that can be embraced in daily activities and discussions. Some examples:
If we acknowledge just one God, this God is governing others so that there cannot be many minds in conflict. So "one God" is the answer to sibling rivalry, bullies, hatred of other ethnic or religious groups.
If we love God with all our heart and soul, we can't be slaves to other gods, be they silly fashion trends, scholastic cheating, or drug/alcohol use, which would try to take over both our hearts and souls.
If we love God with all our strength, we are relying on His might, His boundless energy, rather than on strength-enhancing exercises or drugs. God is omnipotent (all powerful) and as "all," there can't be any false, attractive alternatives.
If we love God with all our passion or fervency, we won't be trapped into false passions such as stealing, over-eating, inappropriate sexual activities, murderous thoughts. Our passion is pure and good.
If we love God with all our intelligence, we realize that He gives us all we need for a satisfying, useful way of life. There's no need to have a wish list of "stuff" we want. Nor is there a need to doubt our abilities, talents, and skills. Asking God to show us the way will supply us abundantly with all our needs.
If we love God with all our prayers, we are setting aside selfishness and relying on His good will for us. Our prayers take on a new direction - a Godward direction.
And what about loving others as we love ourselves? God's love doesn't play favorites. Each of His children is attractive, intelligent, interesting, unique. When we see ourselves in this light, we can more easily see others in the same perfect view. This rules out despondency, envy, covetousness. And, we realize there is plenty of good from God for everyone.