Morning Messages
Take a moment to write down a Bible verse on a slip of paper or notecard, and tuck it into your child's lunch box, backpack, or wallet. These discrete messages can pack a punch of inspiration at just the right time.
Categories: School
As your youngsters go off to school, you may think they are outside your loving protection. But you know they are not, since an omnipresent God is with them in every joyful or challenging instance at school.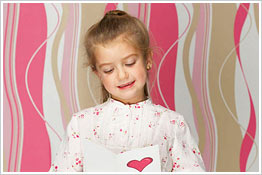 You can remind them of this with "Morning Messages." These are pertinent Bible verses tucked into a lunch box or jacket pocket. (I also found them useful for Sunday school students. I called them wallet cards. Ten years after I'd taught the junior high school class, I happened to meet one of my former students, who opened his wallet and showed me he still carried a favorite wallet message.)
Here are some for you to use. You can just print them from this page, cut them out, and tuck them into a place where they will be found.
Trust in the Lord with all thine heart; and lean not unto thine own understanding. In all thy ways acknowledge him, and he shall direct thy paths. (Proverbs 3: 5, 6)
.....with God, all things are possible. (Matthew 19:26)
Neglect not the gift that is in thee..... (I Timothy 4: 14)
.....he shall give his angels charge over thee, to keep thee in all thy ways. (Psalms 91:11)
.....the lord shall deliver me from every evil work, and will preserve me unto his heavenly kingdom: ..... (II Timothy 4:18)
.....ye shall know the truth, and the truth shall make you free. (John 8:32)
Study to shew thyself approved unto God, a workman that needeth not to be ashamed, ..... (II Timothy 2:15)
Thou wilt shew me the path of life: in thy presence is fullness of joy; at thy right hand there are pleasures for evermore. (Psalms 16:11)
.....God hath not given us the spirit of fear; but of power, and of love, and of a sound mind. (II Timothy 1:7)
Let this mind be in you, which was also in Christ Jesus: ....Do all things without murmurings and disputings: ...... (Philippians 2: 5, 14)
Flee also youthful lusts: but follow righteousness, faith, charity, peace, with them that call on the Lord out of a pure heart. (II Timothy 2:22)
And one adapted from Numbers 6: The Lord bless me, and keep me: The Lord make his face shine upon me, and be gracious unto me:.....and give me peace.
When you cut these into small messages, fold them into a lunch box or pocket, your youngster can read them, and reread them in private - or share them if he wishes. Happy school days!