O' God, Change Me So That I Can Love Them Better!
When we ask God to change us so that we can see the beauty, goodness, and holiness God created, wonderful things happen to our relationships with our children – with everyone.
Categories: Guidance
I pray for my kids everyday. I pray for other people's kids everyday. I pray that they feel, hear, and know God's love. I pray that they see God and follow His path. I pray that they know themselves the way God knows them.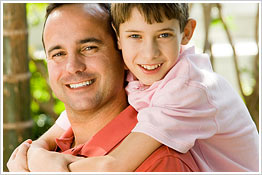 But the most important prayer that I pray is quite simple – "O' God, change me so that I can love them better." Change me! Not them, me.
Train Up That Child!
So often parents get caught up in trying to make children behave a certain way or do a certain thing. And this is extremely important and valuable – after all, the Bible says "Train up a child in the way he should go: and when he is old, he will not depart from it" (Proverbs 22:6). Or as the New Living Translation says it, "Direct your children onto the right path, and when they are older, they will not leave it."
But notice how the verse says "in the way he should go" or "onto the right path." Parents aren't training children in "where" to go but in "how" to go. It's a path to walk down – a way of living, a way of being. In order to be on the right path, we should train our children to follow God's lead – not our's. In fact, the change we must be willing to make is to convert from trying hard to be a good parent to trusting God to be the best Parent to all of His children, listening and being willing to follow His guidance.
Don't make them angry!
A man I know was having a little trouble relating to his young son. When his son was born, he read a lot of parenting books that were recommended by people he trusted – either friends or national figures whose opinions he respected. This was helpful, but by the time his son was seven or eight, it was clear that they had different interests, different tastes, and different ways of doing things.
It wasn't a bad situation. In fact, the differences were quite minor considering what some families go through, but it was frustrating nonetheless. My friend didn't want to live his life in constant frustration, but more importantly he didn't want his son to know his dad as a frustrated person or as a source of frustration.
He came across an important verse in the New Testament. It reads "Fathers, don't make your children angry. Instead, train them and teach them the ways of the Lord as you raise them" (Ephesians 6:4, The New International Reader's Version [NIrV], also called the Adventure Bible for Young Reader's).
Then he came across a similar verse in Colossians 3:21. "Fathers, don't make your children bitter. If you do, they will lose hope" (NIrV).
Finally, he discovered another verse that described the way a father should treat his children. I Thessalonians 2:11-12 read, "You know that we treated each of you as a father treats his own children. We gave you hope and strength. We comforted you. We really wanted you to live in a way that is worthy of God. He chooses you to enter his glorious kingdom" (NIrV).
Change me!
This led him to believe that he needed to love his son better – but to do this required being more humble. He needed to live the way he wanted his son to live. So, in order to fix things, he needed to change.
This led him to the following very simple prayer – "O' God, change me so that I can love better." He didn't ask for God to change his son – God made the boy in His image, in His likeness. Instead he asked God to change him so that he could better love what God created – so that he could see the beauty, goodness, and holiness God created.
Try saying this prayer each morning for a week, and see how it changes your life.
It changed mine – I'm that father. Within just a couple of days, I started loving my son better. The frustration left and the loving took over. And I found that we actually had a lot of things in common. I'm sure those things were there all along, but I couldn't see them.