One Ever-Present Parent – God!
The underlying framework for how to parent well is the Bible. Turn to God as the most resilient, reliable, and ready source of answers to all parenting questions. God parents us all – child and parent, alike.
Categories: Fatherhood/Motherhood
When our first child was born, my husband and I felt as newborn to the role of parenting as the child was to the world outside the womb. We'd asked for advice from our parents and friends with children, and we'd read a parenting book or two about establishing a feeding schedule, sleeping-through-the-night strategies, and different stages of childhood development. We felt prepared and ready for this experience; We wanted it, and we had spent the nine months of pregnancy cherishing the idea of a child and of being a parent.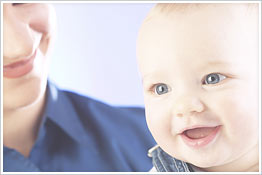 But, who can honestly tell you what it's like to have a child and how parenting will play out? No one, of course, because it's different for everyone. Yet, all parents face very similar issues right from the start… and through the years. So, there must be an underlying framework for answering the age-old question of how to parent well. That framework is the Bible because that's where we learn again and again (and again!) that God is the one and only Parent and that God is always with us, parenting us as we parent our children.
There are watershed moments in all of our parenting experiences. Often these are moments when we are striving for a sense of peace or calm in the midst of an emotional storm. The paramount question is always the same: what should (or can) I do to fix this problem? Turning to God as the most resilient, reliable, and ready source of answers is an excellent choice. Consider these timeless examples:
An infant is crying inconsolably. "Fear thou not; for I am with thee: be not dismayed; for I am thy God: I will strengthen thee; yea, I will help thee; yea, I will uphold thee with the right hand of my righteousness" (Isaiah 41:10). Calming our thought, filling us with a floodtide of comfort and a sense of the dear Father's presence, establishes a peace that quiets thought and dissolves rising panic… and the crying stops.
A toddler is in full tantrum mode in the wrong place. "And in the synagogue there was a man, which had a spirit of an unclean devil, and cried out with a loud voice, Saying, Let us alone; what have we to do with thee, thou Jesus of Nazareth? art thou come to destroy us? I know thee who thou art; the Holy One of God. And Jesus rebuked him, saying, Hold thy peace, and come out of him. And when the devil had thrown him in the midst, he came out of him, and hurt him not" (Luke 4:33-35). Notice that Jesus called out the devil and the man came to himself. Jesus didn't reason with the devil or coax him to stop acting up. He refused to be impressed by the devil's antics. This is one of the finest examples of the matter-of-fact dismissal of inappropriate behavior – the simple refusal to give any power or control to evil, and to remain completely unimpressed. 
A child is suffering from a painful earache, headache, stomachache, any ache. "For in him we live and move and have our being" (Acts 17:28). The Bible is full of healings of sickness and disease that stem directly from a conviction that nothing is impossible to God. The Shunamite woman's son cried out in agony, "My head, my head," and died in his mother's lap. Yet her conviction that God was right there enabled her to say, "All is well" to Elisha's servant. And Elisha's response was to revive the child. The full story can be found in II Kings 4 – it's well worth reading!
A teenager is frustrated and angry, challenging authority, and questioning his identity. We all know the story: Jesus was tempted three times by the devil to believe that God wasn't actually all He was cracked up to be and that he (Jesus) could do a better job on his own. But, he refused to take the bait: he denied the devil in a straightforward, matter-of-fact put-down of one temptation after another. Different versions of this critical experience in Jesus' life can be found in Matthew 4, Mark 1, and Luke 4. As parents, we can do the same – we can attack the devil rather than the child, we can separate the behavior from the child, and refuse to accept the inaccurate persona. Through this, we can help the teen see himself as he truly is: good, stable, and purposeful. 
A young adult faces a failing grade or being cut from a team, i.e., anxiety and disappointment. When Moses was born, in a way he was given a "failing grade"— he was on the brink of being "cut from the team" — he was destined to be put to death for being Hebrew and a boy. Yet, his mother discerned an innovative way to save him and even "mother" him as his nursemaid when he became the Queen's adopted son. (You can find Moses' life story in the book of Exodus.) The Bible is full of outstanding examples of people who faced adversity. In every instance, strengthening faith and developing a deeper reliance on God proved to be the source of ideas for resolving tough situations and promoting character growth. "I love you! Let's find a solution" can be an invitation to astonishing changes of course, heart, and attitude in both child and parent.
A family faces constant sibling squabbling and endless rounds of the blame game. Two compelling Bible stories offer dynamic responses to these situations: one is Joseph's l-o-n-g journey from slavery (because his brothers sold him) through one unfortunate circumstance after another (for which others could readily have been blamed) to his crowning victory when he reunites with his brothers without a hint of blame or hurt feelings. (See Genesis 37-50 for Joseph's story.) The second story is of the adulterous woman whom Jesus tells to "Go and sin no more" after her accusers slink away from stoning her because they recognize their own misdeeds. (This story can be found in John 8.) Inviting both sides to cast the first stone is a sure-fire way to diffuse tense situations … and gain enough perspective to establish terms of reconciliation.
There are variations of all these scenarios – and many other examples that could be listed. But rather than focus on the specific nature of a challenge, instead, recognize the clear Principle that underpins all of our responses – all of our parenting strategies and skills. I once held a sobbing three-year-old who had stubbornly refused to respond to any of my tried-and-true techniques for terminating tears. I felt utterly helpless, alone, discouraged, and doubtful of God's tender care for all His children, especially His grown-up kids (me). Then it hit me full-force: I am His beloved daughter and if I stop my own "crying," I will hear His words of comfort and care. A sense of the depth, power, and eternality of God's love filled my heart and the space around me. I couldn't help exclaiming, "The Almighty God!" Instantly, the child was still.
"Whither shall I go from thy spirit? or whither shall I flee from thy presence? If I ascend up into heaven, thou art there: if I make my bed in hell, behold, thou art there. If I take the wings of the morning, and dwell in the uttermost parts of the sea; Even there shall thy hand lead me, and thy right hand shall hold me" (Psalms 139:7-10). Knowing that we are always in the presence and care of God empowers us to listen and adhere to the words of the prophet: "Be still and know that I am God." Our "knowing God" leads us unerringly to the right actions to take and the right words to speak to meet the specific needs of our children – in every instance. We are all parented by the one and only Father/Mother, God!