Simply Love
Perfect love is pouring forth, no matter what. It's bubbling up inside us, nearly bursting to be expressed. And it leaves us feeling wonderful and ready to express divine Love every day.
Categories: Love
What does it take to make our hearts nearly burst with love? Not love for someone or something – just pure LOVE. The kind that can't stop bubbling up and that isn't looking for anything in return. The kind that is simply content to give and keep on giving. Is this really possible?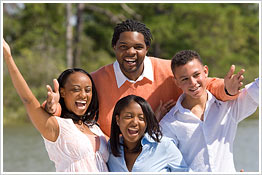 It absolutely IS possible because the source of this Love* is 100% divine — it is God. In I John 4:16, we read some of the most familiar words on this very point: "God is love; and he that dwelleth in love dwelleth in God, and God in him."
Divine Love is unchanging and unspent. It never fails and it never runs out. It never deviates, never skips over someone, never forgets, judges, or blames. It simply is ALWAYS Love.
In I John 4:12, we learn, "If we love one another, God dwelleth in us, and his love is perfected in us." It is this Love that causes our hearts to overflow with desire to express the depth and strength of that Love to others. Perfect Love pours forth and keeps pouring forth. "Pouring forth" means there is an endless supply coming from an infinite source. And it implies that it occurs naturally, without prompting, prodding, goading, coaxing, cajoling, bargaining, or begging. By its very nature, it simply, purely flows.
In I Corinthians 13:4-8 (to :) & 13, we discover some of the attributes or qualities of divine Love that we express because we are the image and likeness of God:
"Charity suffereth long and is kind;
charity envieth not;
charity vaunteth not itself,
is not puffed up,
Doth not behave itself unseemly,
seeketh not her own,
is not easily provoked,
thinketh no evil;
Rejoiceth not in iniquity,
but rejoiceth in the truth;
Beareth all things,
believeth all things,
hopeth all things,
endureth all things.
Charity never faileth:
And now abideth faith, hope, charity, these three;
but the greatest of these is charity."
Charity is the way we express Love.
Love takes on new meaning as we deepen our understanding of what it really is. Every day gives us new opportunities to express love — to live it and live by it — as we come to know God as Love. We must take time each day to acknowledge our relationship to God as His beloved child – loved, lovable, and loving. And then to ask God how, where, and to whom we can express love today. Not because someone asks us to, not because we should, not because we hope for something in return – but simply because it is our God-given nature to love. Because Love is pouring forth, we can't wait to express it.
One of the most powerful lessons we teach our children by our example as parents is how to love. But often, our children need help seeing the connection to God. Sometimes it's easy to think that love is reserved for families and the closest of friends, not to acquaintances or strangers. Yet, there is no qualification or exception to God's love for us, or in Jesus' teachings about how to love and whom to love. We simply love.
What a perfect month February is to discover meaningful ways to love more and to express more charity. One way to begin is with a family discussion on the meaning of Love and the ways in which each family member already expresses it. It may well surprise everyone to discover how much charity is effortlessly expressed each day and how easy it would be to express more. Consider all of the activities a family does each week. Where and to whom can more love be expressed? Ideas might include:
calling grandparents more often
helping a neighbor shovel snow, dragging the garbage container or recycle bin to the curb and back, offering to lift or move something
taking more initiative at home without being asked: emptying the dishwasher, cleaning up after dinner, setting the table, helping with laundry, shoveling snow, running an errand
offering unsolicited hugs or sincere compliments
going out of your way to consider someone else's feelings and needs
All of us can do more and we can do it without hesitation or fear that we'll be disappointed, let down, or discouraged by the response we get. Perfect love is pouring forth, no matter what. It's bubbling up inside us, nearly bursting to be expressed. And it leaves us feeling wonderful and ready to express divine Love every day. This is the true meaning of Love!
* Capital L refers to God as Love