Talk is NOT Cheap
…ye are a chosen generation, a royal priesthood, an holy nation, a peculiar people;…." These are essential topics to explore in conversations with our children every day.
Categories: Family
Despite the saying that "talk is cheap," conversation can be one of the most valuable ingredients in the daily life of a good family. Research indicates that a majority of today's parents only engage in five minutes of meaningful conversation with their kids each day. The remainder of the talk time is taken up by reminders, corrections, and instructions. Yet, research also shows that parents, teachers, and grandparents (in that order, followed by coaches) are the most influential people in a child's life. And sometimes grandparents appear in second place.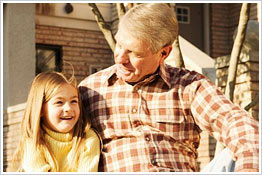 So it seems important to look closely at how we spend our conversation time with our children. Sometimes it's just "yakking" without much merit or quizzing about school grades. Yet Paul says that "our conversation is in heaven" (KJV, Philippians 3:20). How much of our free-time together is spent in more heavenly talk? And Peter tells us (KJV, I Peter 2:9) ".....ye are a chosen generation, a royal priesthood, an holy nation, a peculiar people; that ye should show forth the praises of him who hath called you out of darkness and into his marvellous light."
Let's look at those four categories:
a chosen generation,
a royal priesthood,
an holy nation,
a peculiar people.
"A chosen generation" meant at the time that the people were especially selected by God - but we know that we are all special to God. It is important that youngsters know how much God values each of them. This means that suicide or any self-destructive acts will not help them to fulfill the wonderful plan God has for each of His children. As it says in Psalms 12:7: "Thou shalt keep them, O Lord, thou shalt preserve them from this generation for ever." We want our youngsters preserved from harm and because life does go on forever, short-cuts don't get us anywhere. This human experience is a step-by-step progression to the realization of one's true spiritual being.
"A royal priesthood" described someone with a high standard of living. Today, living this high standard has nothing to do with money and everything to do with excluding base actions like lying, cheating, plagiarizing, shop-lifting, bad-mouthing, and many other youthful indiscretions. Emphasize to youngsters their true royalty - their inheritance through living the Christly life. Again in the psalms, it warns us to follow God's laws and it says (78:4) "We will not hide them from their children, shewing to the generation to come the praises of the Lord, and his strength, and his wonderful works that he hath done." How much time are we extolling those wonderful works, each day. Or are we wasting time discussing and keeping up with the violence, gossip, and disasters constantly presented to us by the media?
"A holy nation" embraces not just our country, but the entire universe and that holiness begins at home. Again the book of Psalms recommends (145:4): "One generation shall praise they works to another and shall declare thy mighty acts." Some days we have to search to find those mighty acts stemming from holiness, but they are there if we look for them in the smallest blessings that come to the family each day.
"A peculiar people" doesn't mean we are odd; the word can also mean "special, unique, privileged, unusual, distinguished." So, it is okay for youngsters to be unique in their talents and abilities, and in the shunning of drugs, alcohol, and tobacco. Each child of God is distinguished and we should avoid comparisons, appreciate uniqueness, and remind children of it.
Our conversations with family needs to include these four categories, along with talk about friends, travel, sports, collections, hopes and dreams. And, parents can use their own experiences to point up these four areas. In his Biblical paraphrase, Eugene H. Peterson interprets part of Psalm 78 this way, saying that God commanded our parents to teach the word to their children "So the next generation would know, and all the generations to come - Know the truth and tell the stories so their children can trust in God....." What better goal for our conversations with our precious children!