The Greatest Gift
For our children to understand the essence of Christmas, parents must instill in them the meaning of Jesus' great gift – the gift of love that embraces the world. Consider new ways to give to those in need this year!
Categories: Christmas
December is the month, more than all others, when families can get swamped by doing "things" - following the old routines that fill the holidays with mega-shopping, over-eating, lavish decorating, and whipping out those Christmas cards. While there is nothing terribly wrong with these activities when they are done with thought and moderation, they are not the essence of Christmas. An essential first step to making children aware of the essence of Christmas is to instill in them the meaning of Jesus' great gift to us - the way to live satisfying, helpful, happy lives now with the confidence that those lives are eternal, forever intact.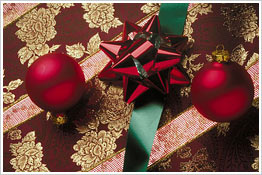 It's difficult for parents to steer the focus from "buy this for me" and "this is what I want" to the outreach that makes the holidays memorable. But, it can be done if parents present new ideas slowly and carefully. When our youngsters were in middle school and high school, I had an idea which I signed us up for without any family consultation - not one word of explanation in advance. In all the years before this, we had enjoyed a traditional Christmas Day morning: the excitement of opening the stockings with all the small and humorous gifts, then a living room breakfast buffet with a special coffee cake with one pecan hidden in it (the finder getting to open the first gift), and finally the giving of gifts - one giver at a time. But then, with one phone call and no preparation, I changed it all. I like surprises, and I assumed they would, too. I announced that on Christmas morn we were to get up at 5AM and be out the door by 5:30, heading for the Interfaith Council Headquarters. And so we did. There we became part of an assembly line, making lunches of tuna fish sandwiches, fruit, and cookies. With 200 bags assembled, we moved to the main room where we served breakfast, which was more like a dinner of meat, potatoes, vegetables, and salad. This was the main meal for many homeless/low income people. To finish our morning, we played Santa by giving out children's gifts I had bought and wrapped. Our children finally got into the spirit of this giving event - and we even did it another year - but the second time, I made sure that they were part of the planning - and planning can be as joyful as the actual event.
So that is where your family's outreach might begin - with planning together, rather than being told of an event "handed down from above." Here was the theme for our plans (from Isaiah 58: 10, 11): "If thou draw out thy soul to the hungry, and satisfy the afflicted soul.....thy darkness shall be as the noonday. And the Lord shall guide thee continually, and satisfy thy soul in drought, and thou shalt be like a watered garden." The next year, we were guided to include others in the project, to start collecting toys well-ahead, to get a neighbor to contribute fruit from her mini-orchard, even to sing carols. What was near-chaos the first year was a joy the second time when we did it with forethought. We could actually see the results of our preparations. As it says in Psalm 34, "The Lord is close to the brokenhearted and saves those who are crushed in spirit."
A good discussion early this month should concern gifts - those good gifts from above," as the Bible says. Certainly kids want specific gifts, but the discussion should include talking about what the gifts from above might be...gifts of the spirit, such as joy, compassion, and love. We can rely on God's promise, "Give, and it shall be given unto you. A good measure, pressed down,.....and running over, poured into your lap." (Luke 6:38 NIV)
These giving activities can be your gifts of the spirit:
Helping a senior neighbor put up Christmas decorations, or take packages to the post office.
Sharing festivities with others and inviting a "single" to dinner, including in your own activities service people who are away from home.
Inviting families of military service people who are away at the holidays.
"Adopting" a needy family and supplying food, decorations, gifts. Your church or social services agency can connect you. You may want to do this with another family.
Providing cookies or tray decorations for a senior center and singing carols with them.
Making phone calls in advance of the holidays to share news with far away friends and relatives. In advance, help younger children to think of what they might tell.
These and similar activities show the benefits in this statement from II Corinthians 8:13, 14: "I mean not that other men be eased, and ye burdened: But by an equality, that now at this time your abundance may be a supply for their want, that their abundance also may be a supply for your want: that there may be equality."
Of course your choice of outreach will bear witness to the fullness of the Biblical promises set forth in Malachi 3:10: God "will open you the windows of heaven, and pour you out a blessing, that there shall not be room enough to receive it."