The Spirit of Christmas
The true spirit of Christmas is expressed through a love that's straight from God. It knows no bounds, it has no boundaries, and it keeps on giving. Try a different kind of countdown to Christmas this year!
Categories: Christmas
One of the fun family activities leading up to Christmas is the traditional countdown to Christmas Day on a nativity calendar. When I was a young child, these calendars featured simple pictures behind numbered windows or doors. Each morning's pre-breakfast fun was finding the correct number amidst the shades of color and glitter and the shapes of Bible characters and animals pictured on the calendar. In recent years, these calendars have depicted more secular scenes of Christmastime, and now they often include tiny trinkets and candies behind each window and door. In fact, the true spirit of Christmas is often overlooked in the scramble to find the toy or the treat.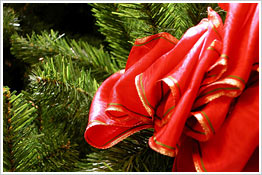 When gearing up for the holidays starts as early as mid-September through advertisements and countdowns and decorations for sale, it can be quite a challenge to stay focused on the real reason for celebrating Christmas – on the prophecies that led to and the events that surrounded the birth of Jesus. Yet, despite the incessant push of commercialism to make Christmas all about giving and receiving gifts from a wish list, it's the spirit of Christmas that touches the heart year after year:
The gift of unexpected love
The gift of selfless love
The gift of unconditional love
The gift of uninterrupted love
In each case, the kind of love expressed is straight from God – it is divine, unearthly. It knows no bounds and it has no boundaries. And it keeps on giving. Isn't this the love that God expressed for us in the virgin birth of Jesus? Isn't this the message of love that Jesus expresses through his parables and teachings? Isn't this the meaning of the familiar Bible verses from I John (4:9, 11, 12 (If))?
"In this was manifested the love of God toward us, because that God sent his only begotten Son into the world, that we might live through him. Beloved, if God so loved us, we ought also to love one another….If we love one another, God dwelleth in us, and his love is perfected in us."
Let's take this opportunity to rediscover the true meaning of Christmas this year – to look beyond the gift buying, giving, receiving (and returning!). One way to begin might be to trace the story of Jesus' birth through the different pages of this website as well as digging into the archived articles on Christmas. And a fun project for the whole family might be to create a special nativity calendar – one that has particular meaning to all of you. You don't have to create a page with windows and doors to open. Instead, you could use a standard block calendar design. But be thoughtful about what you "hide" in each square – what gift of spiritual uplift will you offer each day? Can you imagine how many different calendars you could create? Here are a few ideas to get you started:
A fact-a-day about the events surrounding the birth of Jesus

angels bring good news
no room at the inn
the star that illuminated the way to Jesus' manger
the shepherds watching
the angels singing
the wisemen and their gifts
Herod's decree

A fact-a-day about the events leading to the birth of Jesus

the prophecies in the Old Testament
the genealogy of Jesus' family
the story of Zacharias
the angel speaking to Mary
Mary meeting with Elizabeth
the angel speaking to Joseph

A quality-a-day that you persist in seeing in the world

integrity
joy
peace
love
intelligence

A quality-a-day that you will express and expect of others

honesty
loyalty
forgiveness
kindness
goodness

A thought-a-day that inspires you to see things in a new light

find new Bible verses that deepen your understanding
include inspired writings of others

An idea-a-day for acts of kindness

smile when you least think you can or want to
run an errand for someone who needs help
offer to babysit
prepare dinner one night a week
clean up your room before you are asked
put a load of laundry in and fold it when it's dry

A gift-a-day that touches the heart but costs no money

a warm greeting
a genuine smile
an offer of help
a sincere thank you o a hug
These are ideas to get you started on your Christmas countdown – on your own discovery of what Christmas and gift giving really mean.