Valentine Love
It's the perfect time of year to make a family study of I Corinthians 13, which is a clear message about love, caring, and charity. BibleWise provides 14 lessons wrapped up in a Valentine hug!
Categories: Love
Valentine's Day is a perfect time to consider the Bible's First Corinthians 13 and its message on the importance of love/charity/caring. For you and your children age 5 and up, I've mapped out a little study plan for the first 14 days of February. But even if you start a bit late, you can still catch up, or just do it during the remainder of the month. I will be quoting from the "Good News Translation" (Zondervan Publishers), which is fairly similar to the King James Version (KJV).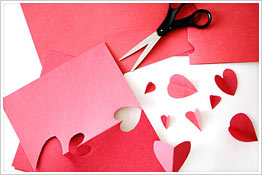 February 1: v.1"I may be able to speak the languages of human beings and even of angels, but if I have no love, my speech is no more than a noisy gong or a clanging bell."
Discuss the importance of speaking to one another in a polite and caring way - as if speaking to a loved one.
Who wants to be a gong?
February 2: v.2 "I may have the gift of inspired preaching; I may have all knowledge and understand all secrets; I may have the faith needed to move mountains - but if I have no love, I am nothing."
Where do we hear this kind of talking or boasting?
Is it loving?
Can one live without love?
February 3: v.3 "I may give away everything I have, and even give up my body to be burned - but if I have no love, this does me no good."
Why is such a display false?
Who had enough love to give up his body?
What was the result?
February 4: v.4 "Love is patient and kind: it is not jealous or conceited or proud;"
How can love be patient?
How are jealous and proud people viewed by others?
February 5: v.5a ".....love is not ill-mannered or selfish or irritable;"
What do we gain by being selfish? Irritable?
What are bad manners?
Are these necessary to today's fast living?
February 6: v.5b "..... love does not keep a record of wrongs;"
Is it easy to remember what others have done wrong?
How can one forget and forgive?
Why would we want to clutter our thinking with others' mistakes?
February 7: v.6 "Love is not happy with evil, but is happy with the truth." The KJV says "Rejoiceth not in iniquity, but rejoiceth in the truth;..."
How often do we take pleasure/joy in evil, another's mistake, or when an enemy is revenged?
Isn't this "rejoicing in evil" what fills most newspaper columns and TV news broadcasts - rather than stories of the truth?
Is there anything we can do about it?
February 8: v.7 "Love never gives up; and its faith, hope, and patience never fail."
What is an example of Love/God never failing or of Love never giving up?
Is this enduring patience always the best way to act?
February 9: v.8 "Love is eternal. There are inspired messages, but they are temporary; there are gifts of speaking in strange tongues, but they will cease, there is knowledge, but it will pass."
Think about the meaning of this as it ties in with tomorrow's quote.
February 10: v.9 and v.10 "but when what is perfect comes, then what is partial will disappear. For our gifts of knowledge and of inspired messages are only partial."
How does "knowledge" change?
What things formerly thought to be permanent, turned out to be temporary?
What really IS permanent?
February 11: v.11 "When I was a child, my speech, feelings, and thinking were those of a child; now that I am an adult, I have no more use for childish ways,"
Have you seen an example of this?
Do you think that your speech, feelings, and thinking are totally adult now?
February 12: v.12a "What we see now is like a dim image in a mirror; then we shall see face to face." KJV says "we see through a glass darkly;"
What does this have to do with what we know?
February 13: v.12b "What I know now is only partial, then it will be complete - as complete as God's knowledge of me."
What is God's knowledge of each of us?
Does it change or was it the same even when we doubted or had some problem? This is God's forever love of you -- which you reflect.
February 14: v.13 "Meanwhile these three remain: faith, hope, and love; and the greatest of these is love."
What are examples of our faith, hope, and love -- and examples of how we use God's love?
How can we do better?
This is also a good time to tell your children and grandchildren how much you love them with a short personal note. Sometimes such a note is a "keeper" and a child will put it in the back of a drawer and pull it out to reread when feeling down.
Happy Valentine's Day!