MaryEllen Dohrs
Artist
MaryEllen Dohrs is an artist, a teacher of sculpture, and an inventor. She shares experiences, insights, and inspiration from the Bible that helped her through her career -- how she worked as the first woman at GM Styling, traveled through the former Soviet Union and sketched the Russian people, was awarded a patent, and became a free-lance artist. She also shares how she thinks about art as a way of seeing and communicating and why she enjoys teaching art and illustrating Bible stories.

When did you start getting interested in design and art?
At age 6, I began building stuff -- model airplanes, boats from kits. I also began processing film and printing pictures at that age. There was no TV, so I drew pictures in big newsprint "scrap books" for hours at a time. After Hollywood High School (I was born and raised in Los Angeles), I went to New York and Pratt Institute, hoping to go into Advertising. But I switched at the last moment to do all that I ever wanted ... to MAKE things! I graduated with a degree in Industrial Design, which is a combination of engineering, invention, convenience, comfort, and above all, beauty. It usually means making a "skin" for a product, which can be marketed successfully, used easily, and brings pleasure to the user. Then General Motors hired me to be the first woman in GM Styling.
What is "Styling," and what did you do?
"Styling" is the division where all design ideas are developed from sketch, to clay model, to full-size model for presentation. It's very secretive. Ideas are guarded like the Coca Cola formula. Tons of ideas are worked on, and very few advance to the next stage. I was 20 years old when I got the job. My job was to design interiors for show cars and special cars for dignitaries. I designed the interior for the black Cadillac convertible for Hopalong Cassidy. After several years, I left the corporate world for an Industrial Design company to work with multiple clients such as IBM, Samsonite, Coldspot, Kenmore, and Packard Motor Car Co.
What was it like to be the first woman at GM in Styling?
As a female in a male field -- the only girl in my Industrial Design class, the only girl in GM Styling at that time, the only girl in the Industrial Design Studio for several years -- I had to prove myself and ideas constantly. But it was a great feeling to have the idea, shepherd it through the model stage and manufacturing, see it in a store, and watch people buy it. In those days, I was a little overwhelmed with the pressures of work. The men in Interiors used to bring "Girlie" magazines in after lunch and ogle. One day, I brought a body building magazine in and sat on the 25' drawing table next to them, and they roared with laughter. That broke the back of their efforts to embarrass me. When I was at the ID studio, I had a lot of time pressures.
Was there anything from the Bible that helped you deal with these pressures?
Yes. Whenever I felt overwhelmed, I was reminded of those people in the Bible who had managed to solve bigger challenges by looking beyond themselves. Joseph was lifted out of a pit of despair and taken to a foreign land. He made the best out of a bad situation and ended up helping the King, the Egyptians, and providing for his own family. After the horrible treatment his brothers gave him and after all that had happened to him, he was able to forgive! A very wise mother of a friend told me something that has stayed with me all my life: "It is not my responsibility, but my response to God's ability." It was not my responsibility to get this job done. God has the ability, and I just do what God, Mind, tells me. This was very powerful, because it lifted the burden off my shoulders and put it where it should be. I used this concept often, as I was constantly presented with jobs which pressed me to grow, as they were way over my head. I had to know God (who knows all) would help me find the strength and answers. And He always did.
Are there any other experiences you had where you turned to the Bible?
I've had many. While raising two children, I did freelance industrial design, as well as watercolor painting and pen and ink drawings, which were combined and published in a book called, Sketches of the Russian People. The book is now out of print, but it can be found in the Library of Congress. The travel to the Soviet Union and research were the result of my husband being a professor of Geography and specializing in the Soviet Bloc countries. These trips occurred between 1958 and 1975, during the height of the "Cold War." These were dangerous times. One time in the Soviet Union in 1961, after Khrushchev gave an aggressive speech about the USA, we were stopped on a train at the Hungarian border by the Soviet Militia who took all of our papers and passports away and went through our luggage. The atmosphere was very chilly. The train was held up for 45 minutes until the station master came aboard and made the Militia give our stuff back and get off the train. I'm sure they photographed all my sketches. We were very concerned with our safety, as my husband happened to be a Colonel in the Air Force Reserve specializing in Intelligence. At this time, as on many other occasions during these trips, I turned to Psalms 23: "Yea, though I walk through the valley of the shadow of death, I will fear no evil: for thou art with me; thy rod and thy staff they comfort me" (Ps. 23:4). The word, "through," has always stood out to me. God doesn't leave us "in" difficult situations. He guides us THROUGH them -- out of them. We certainly were led through the Soviet Union safely, just as Moses was led through (and not stuck in) the Red Sea. And the Egyptians didn't get through to him or the Israelites.
When did you get into sculpture?
After our children were in universities, I was free to spend more time in a climate preferred by a Californian … Florida. It was here that I began sculpture in a big way. Sculpture is a natural development for an industrial designer. I'll sculpt anything. I'll just work things out technically and artistically. Using my engineering skills and understanding of balance and strength of the materials, I have developed a system to make standing figures out of clay (mud) without using armatures. I like terra cotta (water base) clay best, as it is so fresh and immediate. People don't understand how I do what I do. They ask if my sculptures are metal, as I paint them to look exactly like bronze. I push the borders and make anything.
What do you sculpt?
Because of my system, basketball was a natural. So, I sculpt basketball players. I've got a lot of them, and I can do likenesses if someone wants me to do one. I have a series of whimsical face pots, 8 children's faces to a pot. The expressions are fun. Some are sticking their tongues out, others are smiling. I also make smaller frog pots. I sell a lot of them. I sculpt a lot of frogs, too. I go for whimsy. I've been teaching sculpture at the Armory Art Center at West Palm Beach for ten years, where I bring the wonderful world of art to many, many people who never had the time or inclination to develop their artistic communication skills. That is what art is all about -- communication.
How did you start teaching sculpture, and what do you like about it?
I kind of fell into teaching, having never taught anything but "how to throw a ball" in my kids' school. I teach people how to see. Most people go through life "looking" but not "seeing." Sculpture is forming positive shapes using light and shadow. I also teach anatomy, but in motion. The rewards of teaching are many. I love seeing students begin to see beyond arms and legs to the essence of energy, grace, gentleness, or aggression. Teaching, like art, is communication -- finding words and other ways to explain the concepts. Each person hears differently because he or she comes from a different background or understanding. A good teacher has to meet the students where they are with language that is meaningful.
What are you working on now as an artist?
About 3 years ago, I began illustrating Bible stories. Now there's a challenge! I want my clay figures to do whatever we read in the Bible -- fishing, caring for sheep, etc. With limited verses, I must delve into the Bible, its culture, and the thoughts behind the stories in order to know what body language and facial expressions to incorporate. I enjoy this work because I really have to THINK. What sort of boat was it? How were they dressed? What were they THINKING? What were their expressions like, their faces, bodies? What importance did the story have? How can one portray that? I've illustrated "Cast the Net on the Right Side," "David and Goliath," "The Shepherd Returning with the Lost Sheep," "Daniel and the Lions," "And a Little Child Shall Lead Them," and "The 10 Lepers." I have sold some of these sculptures to churches, which display them in their Sunday Schools. Right now, I am working on the story of Elisha saying to the destitute woman with the two sons, "What hast thou in the house?" (II Kings 4:2).
My understanding of art and engineering has even helped my understanding of the Bible. I know enough about physics to know how wise Jesus was when confronted with a crowd of people. He got into a boat and pushed away from the shore. Why? A shoreline beach would graduate in elevation so more people could see him. The waterline made the people spread out, accommodating more. The water itself provided a hard surface for excellent acoustics so that all could hear. Smart! My study of the Bible also has influenced and helped both my art and my life.
Is there anything else you'd like to share?
I have left out the fact that in the late '80s and early '90s, I invented, designed, patented, and marketed a poultry roasting rack called, "For the Birds." Our family always cooked together, and we were always trying to get moist white meat in the holiday bird. I figured out how to do it and devised the system to make it work. The rack supports the chicken upside down while roasting so that the juices flow into the white meat and not into the pan for gravy. I got the patent because it was absolutely different in concept and mechanics than any other system. A patent is only given if, after being researched, it is not a combination of existing systems or objects. It must be unique. Think of Abraham, the son of an image maker in Ur. He came up with an absolutely new concept. No one was there to back him up, give him advice, or teach him. Yet, he declared that there were not many gods but that there was and is only ONE GOD. Wow! How unique was that! My son and I marketed the rack for a time but found it too demanding and sold out our entire inventory.
What would you tell aspiring artists, sculptors, industrial designers, inventors?
Art is not what you learn, it's what you live; it's how you express yourself.
If you're an artist, you use art in everything you do for your whole life.
Art is communication.
Art is seeing, not just looking.
Art is interwoven into all chosen professions in making ideas clearer and better understood by others.
Art puts "soul" into the ordinary making it extraordinary.
Art is what you do in kindergarten because you cannot write yet.
Art is what you do the rest of your life because it enhances what you write and think.
ART IS FOREVER.
A verse from Psalms stands out to me: "My help cometh from the Lord, which made heaven and earth" (121:2). So I'm not looking at anatomy and bodies; I'm looking at energy and grace. I'm not looking at the Atlantic Ocean; I see beautiful colors and the wonder of the sky and the clouds -- the majesty of God.
About MaryEllen Dohrs
There is nothing static about this lively artist. MaryEllen Dohrs has forged her own path in the art world and has evolved as a sculptor from a decidedly eclectic educational background.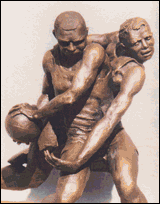 She says the strength of her terra cotta sculpture is in the "energy expressed," and no one who has seen her works could dispute that statement. Most of her works are "going somewhere" —- and with pizzazz. A glimpse of In the Mood (with the cheek-to-cheek couple stepping out briskly and the girl's swirling skirts revealing ruffled panties) takes you right to the jitterbug era of the forties, whether that was "before your time," or not. She values freedom of movement, freshness and active gestures in her sculpture, and somehow manages to create them with minimal support and without the use of armatures.
It is probable that her education at the Pratt Institute, studying Industrial Design, provided her with the engineering know-how to master those technical problems. But discovering that she was the first female designer of production and show cars at General Motors may tell you even more. Add to that the fact that she is also an inventor, holding a patent on the design concept for the poultry roasting rack, "For the Birds," unfolds more of her eclectic creativity that drives her.
Sports figures are not usually the most common themes for sculptors, but MaryEllen's basketball players battling for ball possession in "The Wall" will have you hearing the crowd chanting, "Defense! Defense! Defense!"
Even her wildlife image can't quite sit still, with one of her "Barred Owls" looking alarmed and ready for flight, and the other menacingly ready to take on any intruder.
EDUCATION
Pratt Institute, Brooklyn, New York. Industrial Design.
EMPLOYMENT
General Motors Corporation. Styling Division. Designer of show and production car interiors.
Sundberg-Ferar Industrial Design. Associate Designer for IBM, Whirlpool, Coldspot, Kenmore, Samsonite and Packard Motor Car Co.
Armory Art Center. Sculpture Instructor.
JURIED EXHIBITIONS
Armory Art Center. Small figures (National).
Birmingham Bloomfield Art Center.
Birmingham Community House (all Michigan).
PUBLICATION
Wrote and illustrated "Sketches of the Russian People", 1959, Library of Congress A38271.
BOOK ILLUSTRATION
"Realities: Might and Paradox in Soviet Russia", Herman/Dohrs, 1982.
INVENTIONS
Patent on concept and design of the poultry roasting rack "For the Birds", manufactured and sold in the USA.