Camp One-A-Days
One way to connect with your youngster each day of summer camp is to send him with a packet of envelopes, one for each day, that contain supportive Bible messages.
In the weeks ahead, many youngsters will be going to camp - some for the first time, others for continued outdoor or specialized experiences. Many a parent would like to go along to be helpful when things are hard, when extra skills or strength is needed, when there are disappointments or triumphs. However, summer camp is for kids – to learn independence and confidence without parents watching, protecting, and steering them in the "right" direction. So how can parents stay connected to their camper while they're in separate locations, often without the option of email or telephone?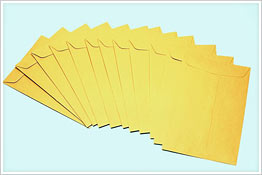 One simple way to connect with your youngster each day is to send him with a little packet of envelopes. One envelope for each day which contains a supportive Bible message. Here are a few to get you started and you can find more in your own study of the Bible. These are quotes from "The Message," Eugene H. Peterson's contemporary language Bible. I've given you enough for about a month, focusing on strength, safety, ability, getting along with others, and having fun.
From Psalm 15
Walk straight, act right, tell the truth.
Don't hurt your friend, don't blame your neighbor;
From Psalm 16
Keep me safe, O God, I've run for dear life to you.
..... God-chosen lives all around - what splendid friends they make!
I swear I'll never treat god-names like brand-names.
My choice is you, God, first and only, and now I find I'm your choice!
The wise counsel God gives when I'm awake is confirmed by my sleeping heart.
Day and night I'll stick with God; I've got a good thing going and I'm not l letting go.
Ever since you took my hand, I'm on the right way.
From Psalm 17
I'm not trying to get my way in the world's way.
I'm trying to get your way, your Word's way. I'm staying on your trail; I'm putting one foot In front of the other. I'm not giving up.
Keep your eye on me; hide me under your cool wing feathers.
From Psalm 18
I love you, God - you make me strong.
I can bend a bronze bow! You protect me with salvation-armor.
You rescued me from a squabbling people: you made me a leader of nations.
He rescued me from enemy anger,....He saved me from the bullies.
That's why I'm thanking you, God, all over the world.
God's king takes the trophy; God's chosen is beloved.
God made my life complete.....When I got my act together, he gave me a fresh start.
What a God! His road stretches straight and smooth.
Now I run like a deer; I'm king of the mountain.
From Psalm 23
True to your word, you let me catch my breath and send me in the right direction.
I'm not afraid when you walk at my side.
From Psalm 25
Take me by the hand; Lead me down the path of truth.
If I keep my eyes on God, I won't trip over my own feet.
Use all your skill to put me together;
You may want to make a set of these quotes for yourself, too. They can be handy in home life.