This Topic is a Killer!
Let's commit to spending as much time praying for peaceable solutions to problems as we spend on arguments, confrontations, wars, killing, and death. Eliminate the casual use of the word "kill" today!
Categories: Guidance, Ten Commandments (6-10)
Does that title get your attention? Killing is not a random or unusual happening these days. The news of gang killings, college rampages, family violence, and road rage have upstaged the killing that goes on between warring tribes and nations today.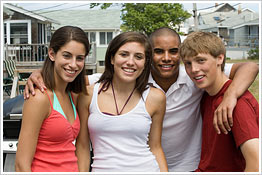 But various other kinds of killings are not unheard of in our homes either. It is in the home that we give conflicting messages: A child is taught the commandment "Thou shalt not kill" (Exodus 20:13). But then he is thrilled to get his first toy gun and shout "bang-bang" as he pretends to kill his sibling. A teen reading a popular magazine says, "I would kill for a body like that!" And a parent losing patience with another driver mutters, "I could kill that guy!"
How did this casual use of the word "kill" come into our lives in so many different ways? And, more important, what can we do about it? The best first step is to take the problem to the heavenly Parent, God, who loves each of us and holds us safely in His caring Love. But is this a practical approach? Certainly, for Love is the foundation on which to build a peaceful and useful life.
Consider a month-long project of getting killing out of your family life. Start with the well-known story of Cain murdering his brother Abel over a seemingly trivial matter (see Genesis 4: 1-16). Ask questions, such as:
How could Cain have helped his brother?
What does it mean to be another's "keeper"?
Next, consider these changes, based on verses from Psalm 91, as ways to remove killing thoughts, words, and actions from family life. Choose ones that are age and activity appropriate for your family.
Clear out unhealthy thoughts.
He that dwelleth in the secret place of the most High shall abide under the shadow of the Almighty.

(Verse 1) Dwell in that secret sanctuary by monitoring game playing as well as TV and movie viewing that focus on killing. Learn to trust in God's care.


I will say of the Lord, He is my refuge and my fortress: my God; in him will I trust.

(Verse 2) Although the Second Amendment gives Americans the right to bear arms, show kids that there is a higher aspect of safety. Ban toy guns, finding other exciting activities, and remind youngsters to leave a place any time a gun is taken out for show or play.
Reject peer pressure.
Surely he shall deliver thee from the snare of the fowler, and from the noisome pestilence.

(Verse 3) Help youngsters to think for themselves and consider the consequences of their actions, thus avoiding the "snares" of group mentality.
Allay fears concerning outside play or being in the dark.
Thou shalt not be afraid for the terror by night; nor for the arrow that flieth by day:

(Verse 5) God does not have "work hours;" He is watching over each of us 24/7.
See that statistics on violence don't influence family life.
A thousand shall fall at thy side, and ten thousand at thy right hand; but it shall not come nigh thee.

(Verse 7) Each of God's children is unique, individual, good.
Start early to educate youngsters about the lethal combination of drugs or alcohol with driving.
There shall no evil befall thee, neither shall any plague come nigh thy dwelling.

(Verse 10) Create strict rules when kids want to get a driver's license.
Rule out killing thoughts toward playmates, neighbors, other teams, other countries and their leaders.
For he shall give his angels charge over thee, to keep thee in all thy ways.

(Verse 11) These angels bring thoughts of love and appreciation. Make it a family rule not to use the word "kill" in any offensive way.
Provide wholesome group activities so kids don't gravitate toward gang membership.
With long life will I satisfy him, and shew him my salvation.

(Verse 16) Always know where your kids are and whom they are with, and remember that "long life" is God's gift to everyone!
Spend as much time praying for peaceable solutions to problems as you spend on arguments, confrontations, wars, killing, and death. Use Bible stories to show how to combat evil: Jacob's relationship to the brother he cheated, Elisha safely surrounded, Jesus passing right through his enemies, Paul escaping the mob. Let each youngster choose one of these stories, use a Bible concordance to find it and read it, then tell it to the family. Make peace-filled living a priority in your home.