To Let – A Higher View
To "let go and let God" is an act of participation, not retreat. It's to get out of God's way all the while affirming that God is right here, operating, governing, adjusting, dissolving…being God.
Categories: Guidance, Putting God First
We parents are wonderful nurturers and problem-solvers. After years of practice, we also become ace anticipators, heading off, defusing or resolving issues before they happen. In essence, we are our children's advocates in the world – in playgroups, at school, in all of life's arenas. But, we are not and cannot always be there. We don't always see what happened or know what's coming around the corner. And sometimes, right in the midst of a "situation," we don't have an answer. Stuff happens behind our backs or on someone else's watch. What can we do? How can we be sure all the time that all is well, or that there is a solution, or that we'll be up to the job – or even that we have the stamina and patience to keep going? Finding answers to these questions is like hitting a triple homerun: we, our kids, and everyone else involved, are lifted up to a higher view – to seeing more spiritually, to acknowledging the presence and power of God, Love, in our daily experiences. And the higher view is always a healing view.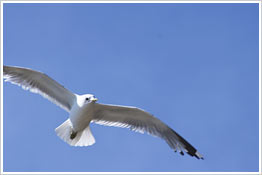 How do we gain that higher view? More to the point, how do we find sure answers, lasting answers? Turning to God never fails. Turning to the Bible is a surefire way to learn about God, and about our role, our job, as God's "image and likeness." Pondering what God is and does, and then determining who we are and what we should be and are capable of doing – these are the pillars of consecrated prayer and spiritual growth.
What do we do when we "turn to the Bible"? We might open it randomly and see where our eyes fall. Which verse do we see, what deeper meaning might it have for us today, what light does it shed on the challenge at hand? A different approach when we turn to the Bible is to use a concordance to explore a particular word – a word like "let."
The other day, I felt completely incompetent to meet my son's pressing need. First, he was 200 hundred miles away. Second, he didn't want me to go to the authorities for him; he wanted to handle it himself. Third, he didn't need a lecture on character building experiences. He had called for a virtual hug. At the same time, I realized the importance of his call: I had been granted permission to pray.
Hanging up from our Skype call, I sat still, listening closely for how to pray, for what to know is true in God's kingdom, where both my son and the individuals in this crisis moment dwell. The idea that came to me was to establish a deep sense of peace in my heart, and then let God be God. The word "let" held my attention. What does "let" mean? How does "let" relate to our prayers and our actions? I decided to look up all the verses in the Bible that include the word "let" – there are more than 1200. Wading through them, one by one, I found distinctly different meanings and uses of the word. By the end of my search, I had a new best friend with a three-letter name.
The adage to "Let go and let God" is oversimplified if we take it to mean we should relinquish our active participation at any given moment – especially from far away, with our hands tied, and our mouths shut. Instead, to let go is to release a sense of fear, frustration, false responsibility, judgment or willfulness, victimization, self-righteousness, negativity, fatalism, blind acceptance and powerlessness…to list a few ideas that came to me. To let is to allow every good idea, every angel intuition to enter consciousness; to be ready and willing and obedient. To let God is to acknowledge One Almighty God over all His people – each and every one of us. To let God is to recognize God's decrees, God's laws underpinning our lives. To let go and let God is to get out of God's way all the while affirming that God is right here, operating, governing, adjusting, dissolving…being God. The verses listed below gained new meaning as I listened for the message in the inspired words.
Complete and perfect foundation. Let there be light Gen 1:3 Let us make man in our image, after our likeness Gen 1:26
Identity. Let your heart therefore be perfect with the Lord our God, to walk in his statutes, and to keep his commandments. I Kings 8:61
Gratitude. Let the heart of them rejoice that seek the Lord. I Chron 16:10
Joyful knowing. Let the heavens be glad, and let the earth rejoice: and let men say among the nations, The Lord reigneth. Let the sea roar, and the fulness thereof: let the fields rejoice, and all that is therein. I Chron 16:31-32
Admonition. If iniquity be in thine hand, put it far away, and let not wickedness dwell in thy tabernacles. Job 11:14
Ceaseless prayer. Let the words of my mouth, and the meditation of my heart, be acceptable in thy sight, O Lord, my strength, and my redeemer. Ps 19:14
Humility. In thee, O Lord, do I put my trust; let me never be ashamed: deliver me in thy righteousness. Ps 31:1
Acknowledgment. Be thou exalted, O God, above the heavens; let thy glory be above all the earth. Ps 57:11
Daily goal. Let my mouth be filled with thy praise and with thy honour all the day. Ps 71:8
A reprimand. Let the wicked forsake his way, and the unrighteous man his thoughts: and let him return unto the Lord, and he will have mercy upon him; and to our God, for he will abundantly pardon. Isa 55:7
Just do it! Let us search and try our ways, and turn again to the Lord. Let us lift up our heart with our hands unto God in the heavens. Lam 3:40, 41
A promise. Let your light so shine before men, that they may see your good works, and glorify your Father which is in heaven. Matt 5:16
An appeal. He that hath ears to hear, let him hear. Matt 11:15
Affirmation. Let this mind be in you, which was also in Christ Jesus:... Phil 2:5
A blessing. And let the peace of God rule in your hearts, to the which also ye are called in one body; and be ye thankful. Col 3:15
The best way to advocate for our children is to pray first – to humbly acknowledge God's power and presence; to identify ourselves, our children, and others as "made in the image and likeness of God;" and to let our action stem first from getting out of God's way and then following His lead.