Ask God Again
Do you pray and expect your prayers to be answered by God? Or do you pray hoping your prayers may possibly get heard? Or perhaps, have you given up on praying because you never get an answer? Well, let's not give up. Let's rethink and redo how we pray.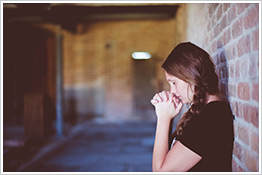 Jesus tells us: "Ask and it will be given to you; seek and you will find; knock and the door will be opened to you. For everyone who asks receives; the one who seeks finds; and to the one who knocks, the door will be opened. (Matt 7:7, 8 NIV)
A—Ask
S—Seek
K—Knock
Jesus says there is a direct response to our A-S-K—we will receive, find, and doors will be opened.
But how many of us are afraid to ask, seek, and knock? Maybe no one will hear. So what's the point of asking? Or maybe we've asked a lot, but we haven't gotten what we wanted. Maybe we just didn't see the better answer God was giving because it wasn't on our "want" list. Or we seek and don't find. Perhaps we're searching for the wrong things in all the wrong places. Or we've knocked and nothing opens up. Rather, doors get slammed in our face: colleges don't accept us; we don't get that job we wanted; we get rejected in a relationship.
Well, maybe we need to change the focus of our asking and redouble our prayer efforts. Maybe we need to trust just a little more.
What are we asking for?
Are we asking for a very specific and human, perhaps material thing or plan we've outlined for ourselves, like admittance to a certain college that has certain criteria, more money, a car?
Or are we asking to do God's will, to follow God's plan for our education, to trust God with our supply, to feel a greater sense of peace and love, to feel more connected and cherished?
What are we really seeking?
Are we wanting a very specific relationship, greater popularity, a certain career?
Or are we seeking to understand our relationship with God, gain a clearer sense of our own God-given identity, find a purer love, a stronger faith?
And which particular doors are we knocking on?
The doors of friends, peers, parents, bosses, or physical pleasure, material success?
Or God's door, God's view of us and our lives, God's blessings of infinite opportunities?
So … even if we've asked before and haven't gotten what we thought we wanted, or have sought and haven't found what we thought we were looking for, or have knocked and haven't had those doors open, let's ASK again. And when we do, it's really important that we turn everything over to God. We quiet our own opinions of how God should answer us. And we let God answer us in God's own way. God's ways are far above our ways. God has answers we can't even imagine and opens doors we didn't even know were there.