God's Ever-Present Protection
From what do we want to be protected?
Physical harm -- perhaps from accidents, animals, bad weather, criminals, bullies, enemies;
Emotional harm -- from insults, slander, prejudice, mistakes, foolish decisions, bad habits, fears;
Lack -- of friends, housing, money, happiness, family support or harmony, health, employment, wisdom, direction, common sense, clarity, vision, focus.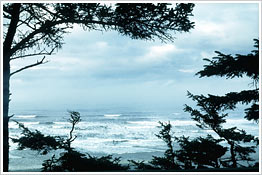 When do we want protection?
When we travel, when we're alone, when we're in a strange place;
Late at night, at school, at work, at home;
All the time.
So what are some of the things we do to try to protect ourselves?
Drive defensively; avoid traveling in bad weather; lock our doors; take courses in self-defense; carry protective gear when we walk, run, or hike; wear bullet-proof vests in the line of duty;
Don't travel at all, stay in our comfort zones, insult others before they can insult us, avoid making decisions, evade confrontation, remain in the same job even though we're miserable, pretend we're happy at home when we're not, hang out with the wrong group of people just so we can have "friends."
The things we do in the first group have the element of common sense, but they are not sure-fire means for full-blown protection. They are just precautionary steps. The second series of things are more self-defense mechanisms that we try out of fear or desperation, and they often end up hurting us or exposing us to more or greater physical or emotional dangers. Yet, we often do them because we're scared, because we feel like we've tried everything else, or because we feel that we have no choice.
But we do have a choice. Rather than trying to protect ourselves by using our own human means, we can trust God, who is really the only One who can truly preserve us. Now, it's one thing to say that God is our protector and another thing to trust and feel God's all-powerful presence sustaining us under every circumstance.
How do we totally turn to God for our protection, "dwell between his shoulders" (Deut. 33:12), and feel His "everlasting arms" which are all around us (Deut. 33:27)?
Sometimes it just takes a leap of faith.
In the movie, "The Raiders of the Lost Ark," Indiana Jones has to make a leap of faith and risk his life when he needs to cross a vast, almost bottomless gully that separates him from continuing his search for the Ark of the Covenant (the chest where the Ten Commandments were placed by the Israelites). When he puts out his foot and takes a step into what appears to be nothingness, an invisible stone bridge walkway appears right in front of him, enabling him to continue on the path to find the Ark.
Once we take the leap of faith in God (whose directions and guidance are always 100% accurate and dependable), we find that it becomes easier to trust God to protect and defend us.
We've all heard, "The best defense is a strong offense." It's become cliché because it's true. So what's our best offense? Well, obviously, it's God!
We read in Romans, "If God be for us, who can be against us? (8:31). No one, no thing! We're safe.
We read in Psalms that "the Lord is my defence; and my God is the rock of my refuge" (94:22).
It's interesting to note that the word "protect" is derived from "pro," meaning "in front," and "tegere," meaning "to cover." No wonder God is the best protector.
"Behold, I send an Angel before thee, to keep thee in the way, and to bring thee into the place which I have prepared" (Ex. 23:20). God and His angels were out "in front" leading the children of Israel, whom God had saved from the pursuing Egyptian army.
"He shall cover thee with his feathers, and under his wings shalt thou trust: his truth shall be thy shield and buckler" (Ps. 91:4). God "covers" us, protects us like a mother bird protects her young. What a beautiful and comforting image that brings to mind!
So how do we make sure God is our offense?
We certainly don't have to do anything to God. We don't have to persuade God to save us. We don't have to plead, cajole, or bribe God to defend us. God already protects, guards, guides, saves, preserves, and defends us every single moment.
But we do have to make sure that we are listening to, trusting in, and obeying God. We have to avail ourselves of the protection God offers us. For instance, if we were in another country and someone was wrongfully pursuing us, we could seek safety in our embassy. The embassy provides safety to its citizens; that's one of its functions. But unless we run to it and ask for that safety, we are not taking advantage of the protection it offers.
Then, we let God take the lead, and we simply follow.
Noah let God be his offence. He listened to God even before it started to rain. God was preparing Noah, and Noah was willing to be directed and prepared by God. He, his family, and the animals were safe in the ark during the flood because he followed God's orders and did exactly what God told him to do -- down to the very last detail (Gen. 6-8).
When we're faced with a dangerous situation, we, too, can put ourselves in the ark and ride out the storm in comfort. But that means that we must be willing to let God be our Offensive Coordinator and follow His instructions. As a result, we must:
listen to God;
trust what God is telling us;
obey God's every word.
Obeying God often takes a lot of humility and courage. We may hear God tell us something that seems foolish or strange. We have to put our own human sense of things aside, put away our pride and vanity, and be willing to do something that may not make sense. There have been many stories of people who have been driving, have come to an intersection, and have heard a very clear voice telling them to stop, even though the light was green. But they were saved from accidents when a car that they couldn't see raced through the intersection on their green light. God's directions are always accurate and safe.
But what about those times when we find ourselves physically or verbally attacked by others, when a tornado comes spiraling towards us, when we're in a difficult family situation, when everyone around us is drinking, when we're being pressured to experiment with drugs, when we're not making enough money, when there's a flash-flood warning as we're driving down the freeway, or when missiles and bombs are exploding around us? What then? Is God not protecting us? Has God not heard our prayers? Has He turned down the job of Offensive Coordinator? Of course not! The psalmist declares the truth: "God is our refuge and strength, a very present help in trouble. Therefore will not we fear" (46:1, 2).
Unfortunately, in our human experience, we cannot always control what happens to us. But we can control what we do and how we respond to situations. So, if we find ourselves in a physical or emotional danger zone, we do have options that secure our safety:
We can silence our fears -- "Be still, and know that I am God" (Ps. 46:10) -- so that we can hear God talking to us, telling us exactly what we need to do. Quarterbacks often silence the crowd so that their offensive team can hear their call. Knowing that God is all will silence doubt, fear, confusion, worry, or anything else that would keep us from hearing God's commands.
We can follow the instructions of the psalmist and "call upon the Lord, who is worthy to be praised: so shall [we] be saved from [our] enemies" (Ps. 18:3).
We can turn to the story of Shadrach, Meshach and Abed-nego. Even though they could not avoid the fire, they came out alive, and not only alive -- "not a hair singed, not a scorch mark on their clothes, not even the smell of fire on them!" (The Message, Dan. 3:27). Just because we've endured an ordeal does not mean we have to be scarred.
We can realize that by relying on God, we can come through any situation unscathed, feel God's presence throughout, and benefit from the blessings of having thrown ourselves into God's tender, loving care.
Whenever we're in a trying or hazardous situation, yearning for protection, we can follow the advice of the Swedish poet: "And during the battle the victory claim" (Lina Sandell Berg). How do we claim the victory? We hold onto God and we don't let go. When we do, there is always a reward:
"If you hold on to me for dear life," says GOD,
"I'll get you out of any trouble.
I'll give you the best of care
if you'll only get to know and trust me.
Call me and I'll answer, be at your side in bad times;
I'll rescue you, then throw you a party.
I'll give you a long life,
give you a long drink of salvation!"
(The Message, Ps. 91:14-16)
God's blessing of protection and salvation is always there for us. In fact, it's already ours. No matter what the situation or how serious it appears to be, by turning totally to God for our offence and by being willing to listen to, trust, and obey God's guidance, we always find our best defense.
---
The 91st Psalm is such a support and strength in times of trouble. For easy reference, two versions of it are given below -- The Message and the King James Version. These inspirational truths are ready to assist us any time we feel the need to appeal to God for protection:
You who sit down in the High God's presence,
spend the night in Shaddai's shadow,
Say this: "GOD, you're my refuge.
I trust in you and I'm safe!"
That's right -- he rescues you from hidden traps,
shields you from deadly hazards.
His huge outstretched arms protect you --
under them you're perfectly safe;
his arms fend off all harm.
Fear nothing -- not wild wolves in the night,
not flying arrows in the day,
Not disease that prowls through the darkness,
not disaster that erupts at high noon.
Even though others succumb all around…
no harm will even graze you.
You'll stand untouched….
Yes, because GOD'S your refuge,
the High God your very own home,
Evil can't get close to you,
harm can't get through the door.
He ordered his angels
to guard you wherever you go.
If you stumble, they'll catch you;
their job is to keep you from falling.
You'll walk unharmed among lions and snakes,
and kick young lions and serpents from the path.

"If you hold on to me for dear life," says GOD,
"I'll get you out of any trouble.
I'll give you the best of care
if you'll only get to know and trust me.
Call me and I'll answer, be at your side in bad times;
I'll rescue you, then throw you a party.
I'll give you a long life,
give you a long drink of salvation!"
(The Message)

He that dwelleth in the secret place of the most High shall abide under the shadow of the Almighty. I will say of the Lord, He is my refuge and my fortress: my God; in him will I trust. Surely he shall deliver thee from the snare of the fowler, and from the noisome pestilence. He shall cover thee with his feathers, and under his wings shalt thou trust: his truth shall be thy shield and buckler. Thou shalt not be afraid for the terror by night; nor for the arrow that flieth by day; Nor for the pestilence that walketh in darkness; nor for the destruction that wasteth at noonday. A thousand shall fall at thy side, and ten thousand at thy right hand; but it shall not come nigh thee. Only with thine eyes shalt thou behold and see the reward of the wicked. Because thou hast made the Lord, which is my refuge, even the most High, thy habitation; There shall no evil befall thee, neither shall any plague come nigh thy dwelling. For he shall give his angels charge over thee, to keep thee in all thy ways. They shall bear thee up in their hands, lest thou dash thy foot against a stone. Thou shalt tread upon the lion and adder: the young lion and the dragon shalt thou trample under feet. Because he hath set his love upon me, therefore will I deliver him: I will set him on high, because he hath known my name. He shall call upon me, and I will answer him: I will be with him in trouble; I will deliver him, and honour him. With long life will I satisfy him, and shew him my salvation. (KJV)